Online Resume Resources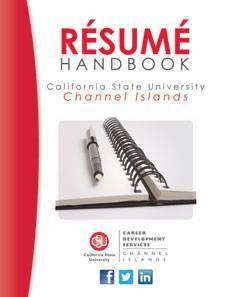 What is a Resume?
A resume is a brief document that highlights your relevant skills, work experience, educational background and serves as a marketing tool. The purpose of a resume is to attract attention, create interest, and generate action to convince employers to invite you to an interview.
Resume Handbook:
Access our comprehensive Resume Handbook (PDF, 2.1M) which includes:
Resumes, cover letters, thank you letters, professional reference sheet and more...
Getting Started:
We encourage you to develop a resume during your first academic year at CI. A polished resume requires multiple edits to effectively communicate your qualifications. To get started, complete a Resume Worksheet (PDF, 37.5 KB) and then visit Weekly Drop-In Career Counseling for additional assistance.
What is a CV?
A Curriculum Vitae (CV) resembles a resume in many ways, but is more specifically focused on academic achievements. A CV summarizes educational and academic history, and may include details about teaching experience, publications (books, articles, research papers, unpublished manuscripts, or book chapters), and academic honors and awards.
Employer Expectations:
Incorporate attributes employers expect in quality candidates within your resume.
Resume Formats:
Format
Description
Templates

Chronological Resume

This type of resume is ideal for a student with consistent work history and minimal gaps of employment. Experience is listed in reverse chronological order, starting with the most recent. This format works best when your work, volunteer, and academic experiences relate directly to the industry/position.

Chronological Template (MS Word,

37.9K

)
Skills Resume

This type of resume is ideal for a student with no work history or minimal work experience. This format highlights your most relevant and transferable skills/knowledge that directly relates to your career goal. This format is useful for a student entering the job market for the first time, or those making a career change.

Skills Template (MS Word,

39.7K

)

Combination Resume

This resume combines both the chronological and skills format. It allows you to maintain the popular chronological resume while including a summary of your skills. It can be organized in a number of ways, but most hybrids start with a skills summary followed by a list of experiences with descriptions in reverse chronological order.

Combination Template (MS Word,

32.8K

)
Cover Letters
What is a Cover Letter?
A cover letter accompanies your resume as an introduction to a prospective employer to communicate that you are a knowledgeable and capable applicant. It should be written in business format and be no longer than one page. Cover letters should be targeted to the industry/position and explain why the employer should consider you as a qualified candidate.
Cover Letter Formats:
Format
Description
Sample

Application

An application letter is sent or uploaded with your resume when applying for a position. The job application cover letter explains to the employer why you are qualified for the position and why you should be selected for an interview.

Application Cover Letter  (PDF,

403KB

)
Prospective

A letter of interest, also known prospecting letter, is sent to companies to let them know you are interested in jobs that may be unadvertised or become available in the future.

Prospective Cover Letter (PDF,

291KB

)

Networking

Networking letters are used request job search advice and assistance from your connections.  Networking letters can include letters of introduction, referral letters, letters requesting a meeting, and letters seeking career advice.  Networking letters can be sent to people you know or to people to whom you were referred.  Networking letters may be sent by mail, email, or via networking sites such as LinkedIn.

Networking Cover Letter (PDF,

156KB

)
(Career Cruising, 2011)
---
 Resume Samples:
Major
Link

Anthropology

Anthropology Sample (PDF, 137.2KB)
Applied Physics
Applied Physics Sample (coming soon)
Art

Studio Art & Photography Sample (PDF, 240.1KB)

Graphic Design Sample (PDF, 782KB)

Biology

Biology Sample (PDF, 150.0 KB)

Business

Business Management Sample (PDF, 153 KB)

Business Marketing Sample (PDF, 152.1 KB)

Chemistry

Chemistry Sample (PDF, 233.3 KB)

Biochemistry Sample (PDF, 180KB)

Chicana/o Studies
Chicana/o Studies Sample (PDF, 291.1 KB)
Communication
Communication Sample (PDF, 169.2 KB)
Computer Science

Computer Science & Software Engineering Sample (PDF, 189.8 KB)

Early Childhood Studies
Early Childhood Studies Sample (PDF, 172.7 KB)
English
English Sample (PDF, 152.7 KB)
Environmental Science
Environmental Science Sample (PDF, 129.7 KB)
History
History Sample (PDF, 103.0 KB)
Liberal Studies
Liberal Studies: Teaching Sample (PDF, 160.4 KB)
Information Technology
Information Technology Sample (PDF, 172.1 KB)
Mathematics
Mathematics Sample (PDF, 101.9 KB)
Nursing
Nursing Sample (PDF, 192.1 KB)
Political Science
Political Science Sample (PDF, 400.1 KB)
Psychology
Psychology Sample (PDF, 180.9 KB)
Sociology
Sociology Sample (PDF, 218.8 KB)
Spanish
Spanish Sample (PDF, 103.3 KB)