This program is currently inactive due to internal procedures. Students cannot apply to the program until the program status is active again. Please check this webpage for future program status updates.
Centria University of Applied Sciences is a multidisciplinary, dynamic, and international higher education institution, which offers students and staff an environment that is innovative, caring and multicultural. A strong focus on entrepreneurship and excellent connections with the working-life, provide a good basis for combining theoretical knowledge with career skills in a meaningful way.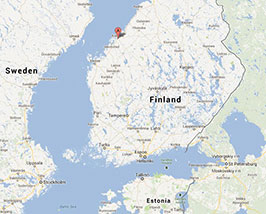 The student population at Centria is about 3300 students. There are 3 campuses, Kokkola being the campus that is open to CI students. CI students can take comfort in the fact that Centria has a very similar value system to CI's mission: placing students at the center of the educational experience. Centria operates with the focus on the student and client, taking into consideration the needs of both the students and working life. There is a spirit of collaboration between students, business, and working life with community partners; learning together and working together is valued greatly.
November 1, 2014 is the application deadline to study abroad at Centria for the spring 2015 semester.
---
A presentation about Finland and Centria University.
Centria International Student Guide (PDF, 8.91MB)
This program is open to the following majors:
Business
Math
Music
Pre-Nursing
Sociology