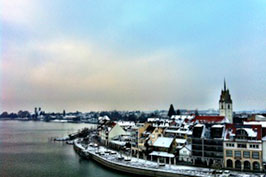 Zeppelin University (ZU) is a unique and fascinating university to attend because it is a "Pioneering University" which focuses on the special interests and skills of students and researchers. Their objective: "the uncrompromising pursuit of academic curiosity and excellence." ZU has a highly motivated student body consisting of about 1,100 students, about 10 percent of them being international exchange students. ZU defines itself as an individualized, international and interdisciplinary educator of well-rounded decision makers and creative innovators in the fields of business, culture and politics, as well as multi-disciplinary research institution exploring issues relevant to society.
ZU is located in a charming part of Germany, on the banks of Lake Constance. The University boasts a beautiful view of the Swiss Alps and is only a 90 minute train ride to major cities Munich, Stuttgart, and Zurich.
---
May 1st, 2015 is the application deadline to study abroad at Zeppelin University for the Fall 2015 semester.
Please visit the ZU website for more information regarding courses, academic calendar, and additional information.
Student Photo Essays- These are available for you to read CI students' experiences at ZU.
This program is open to the following majors:
Business
Communications
Economics
Political Science