What is the Island Fox?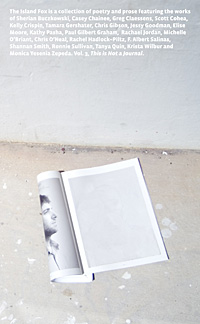 The Island Fox is CSUCI's student literary journal. Every year, English majors who are taking the Creative Writing Emphasis collect and review submitted student poetry and prose. The pieces that they chose become the Island Fox.
Archive of Previous Issues
To view Adobe Acrobat PDF documents, please download and install the free Adobe Acrobat Reader.
Island Fox, Volume 3: This is Not a Journal (PDF, 4.5MB)
How to Submit
The deadline for the Fall semester has already passed. However, there will be a deadline for the Spring semester which we will inform you of in January. You do not need to be an English major to be considered for publication. The Island Fox editorial board selects creative writing pieces based solely on quality and content.
To submit, please email your submission as an email attachment in Microsoft Word format to island.fox@csuci.edu. Be sure to include your full name and contact phone number.
Questions?
Please contact the Island Fox at island.fox@csuci.edu.