In Focus - Faculty
Sharing a Love for Science
By Marya Barlow
Phil Hampton and Tobin Streamland test the Marshmallow Shooter - one of many experiments planned for the Science Carnival.  Photo by Juan Carlo, Ventura County Star
From an early age, Phil Hampton was destined for a career as a chemistry professor.  
His father, a chemistry professor at a small liberal arts college, shared his love of science with his young son. By the age of 12, Hampton was conducting experiments using his own "souped-up" chemistry set and exploding hydrogen gas in the basement of the family's Iowa home.  
"My favorite was the remote control fire bomb with kerosene," he said. "It's a good thing that arm hair grows back quickly."
Today, Hampton is focusing his efforts on developing a passion for science in future generations – through much safer pursuits. In addition to teaching chemistry and mentoring students on research projects, he spearheads an effort to bring fun, hands-on STEM (Science, Technology, Engineering and Math) programs to Ventura County students in grades K-12. With the help of a nearly $6-million federal Hispanic Serving Institution STEM grant for Project ACCESO (Achieving a Cooperative College Education through STEM Opportunities), he leads a CI initiative providing school outreach, career expos, community programs, and on-campus support for STEM students. He also organizes a popular free annual Science Carnival for children and their families with dozens of science activities disguised as play.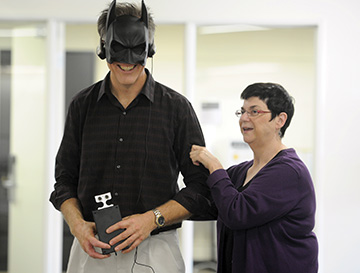 Hampton gets turned around by Connie Baker, CI research coordinator, before he uses the Dark Knight Radar to find Bane, a cardboard character from the movie Batman. Photo by Juan Carlo, Ventura County Star
"Many kids think science is hard or that it's just about taking notes," he said. "But it's really about doing and exploration – finding out the answer to an open-ended question. If we encouraged every kid to experience science that way, it would transform their views."  
Hampton's enthusiastic approach has converted more than a few students into career scientists.  
"Dr. Hampton's mentorship and friendship have been the greatest and most positive influence in my life," said former student Sameh Helmy, now a Ph.D. candidate in Organic Chemistry at UCSB. "He opened countless doors and directed me toward incredible opportunities. I hope to follow in his footsteps after graduating by attaining a faculty position at a teaching university and developing a research program focused on undergraduates – specifically those from underrepresented and disadvantaged backgrounds."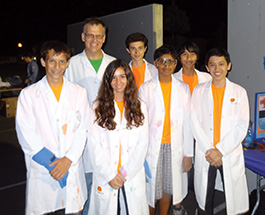 Hampton poses with student participants from Oak Park High School at the fourth annual Science Carnival, held November 3 at Thurgood Marshall Elementary School in Oxnard.
Hampton came to CI in 2001 as one of the first faculty members, leaving a position as an associate professor at University of New Mexico, a Research 1 University. As CI celebrates a decade of educating students, Hampton looks back with pride on the role he played in helping form the curriculum and student-centered culture.  
In his free time, you can still find Hampton conducting science experiments in his garage, with help from his teenage son. His most recent obsession was building a Batman-themed bat sonolocation simulator for the Science Carnival. His device allows children to experience what it's like to fly as a bat, blindfolded and relying only on sound, to find an object.
"I want students to experience science as play and fall in love with it," Hampton said.  
"In my idyllic future, the State of California and possibly the nation would look to Ventura County as a model of what we can accomplish in building STEM interest and success."