CSUCI Students Take Top Honors Again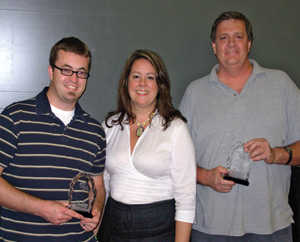 Chris Paterson (left) and John Greenwood (right), both Cal State Channel Islands students, were winners at the 2006 CSU Media Arts Festival, which was held on the CSUCI campus for the fourth consecutive year. Paterson won first place and the Rosebud award in the Interactive category for his Web site "2084." Greenwood also won a first place and the Rosebud award in the Experimental category for his work as director and producer of his video "Stinking Badges." Liz King, assistant professor of art at CSUCI, is also pictured.

The Media Arts Festival showcases student work in film, video, and interactive media from all 23 campuses of the California State University system. The festival also featured seminars with leading industry experts and events to prepare students to pursue careers in the entertainment and media industries.