Parking Lot Safety
Emergency telephones, easily identified at night by the bright blue lights located on top of a red pole marked emergency, are located in lots A2, A4, A7, A10, A10 (overflow), entrance to the conferene halls, and behind the Bell Tower (South Quad) for emergency use. If you need to report a suspicious incident, medical emergency, or request immediate police assistance, simply activate an emergency phone by pressing the red call for help button. Once depressed, the call is immediately linked to the University 911 Police Dispatch Center that indicates the location of origin. Speak clearly into the microphone while stating the exact nature of the emergency. The police dispatcher will summon assistance to the location. In the event a caller does not respond or is unable to speak; a University police officer will be immediately dispatched to the location to investigate. Each emergency telephone is inspected and tested by police officers on a monthly basis.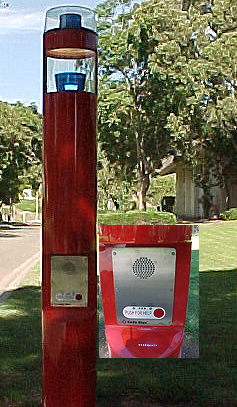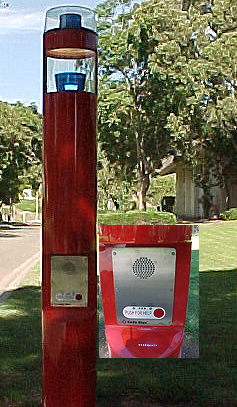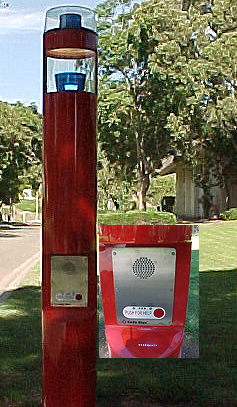 The Top 12 Car Safety / Travel Tips
Carry a cell phone with you.
Subscribe to a roadside assistance service (AAA, etc.)
Stay aware of your surroundings. Cell phones and stereos are very distracting. Be wary of persons who try to talk to you while you are walking to your car. Don't let a stranger walk with you all the way to your car.
Lock your doors when leaving your car in the parking lot. Have your keys out and in you hand when returning to your car. Look into your car before getting in. Lock your door as soon as you get in the car.
Keep your car fueled at all times. Never let it get below 1/4 of a full tank.
Familiarize yourself with indicator lights. Make sure you have an owner's manual in the glove box that explains the purpose of each.
Park in well lit areas.
Keep up with maintenance. Basic items like oil changes, brake and belt inspections are vital, but not difficult to accomplish. Develop a relationship with a "one stop" facility that can perform basic maintenance inspections and oil changes.
Never pick up strangers.
Drive to a police or fire station or open business if you feel you are being followed.
Do not stop to help occupants of stopped or disabled vehicles. Call 9-1-1 and notify law enforcement officials.
If your car breaks down get it as far out of traffic as possible, raise the hood, lock yourself in the car, and call for help.
If someone stops to offer help remain in your car and tell them you have help on the way.