Stay Connected with goCI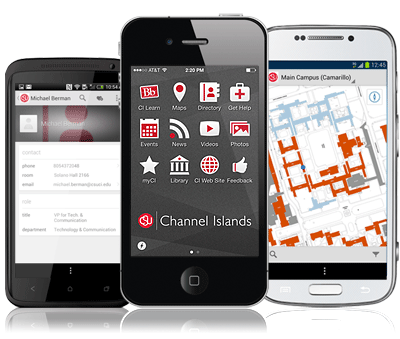 goCI, CI's official mobile app for iOS and Android devices, helps you get access to the campus directory, map, events calendar, and much more!
Get goCI for iOS - Get goCI for Android


Features
CI Learn
Access CI Learn for students and faculty
Faculty can post announcements on-the-go. Students and faculty can participate in discussions, journals, and blogs from their mobile devices.
Separate download of the Mobile Learn app from Blackboard is required.
Directory
Find faculty and staff and contact them instantly
Store contact information in your phone's address book
Mark contacts as "Favorites"
Events
Browse the CI Events Calendar to find performances, lectures, club meetings and seminars
Add important dates, deadlines, and events to your phone's calendar
Search for specific events
Get Help
Quickly dial CI Police, general information, Health Center or other critical campus services.
Maps, Places and Tours
Search for buildings by name or abbreviation, pinpoint them on the map and see your relative location
Explore campus maps by zooming and panning, and use Augmented Reality compass to show proximity to nearby buildings.
Browse key campus facilities by category (such as ATMs, dining and parking) using the "Places" feature in Maps
Take a self-guided walking tour of the campus using the "Tours" feature in Maps
Library
Access the CI Library web site to search library collections
Determine the availability and location of resources
View your Library account
myCI
Login to myCI to view class schedules, add/drop classes in CI Records, sign up for emergency alerts, and access other key services.
News
Read the latest news and features about CI, including social media
Videos
Watch videos highlighting student life, research, noteworthy lectures and programs, and important campus events.
Images
View photos of CI's beautiful campus and vibrant student life
Transit
Access bus routes and schedules and track the real-time location of the VISTA buses that service CI, Camarillo and Oxnard.
CI Pride
Stay connected with CI alumni and get tips for life outside of CI. Separate download of the CI 4 Life app is required.
Mobile News
Learn More about CI's mobile strategy
Known Issues
-updated 2014-10-20-
Events:
Search for events returns results, but detail view for result is missing "Add to Calendar" button and event detail.
Clicking on location or building listed in event results in "No Building Found" message in Maps.