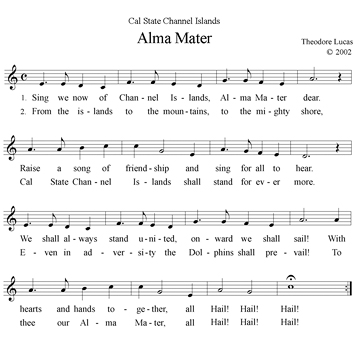 Listen to the CI Alma Mater
(slideshow video)
Sheet Music, CI Alma Mater (PDF format, 83KB)
Lyric Sheet, CI Alma Mater (PDF format, 18KB) 
To view the these files, download Adobe Acrobat Reader.
History of the Alma Mater
The CSU Channel Islands Alma Mater was composed by Theodore Lucas. It first debuted in August 2002 during the University's opening ceremonies and again at the inaugural commencement ceremony held in May 2003. The Alma Mater may be heard daily at 11:55 a.m. as it plays from the campus Bell Tower carillon.
Processional and recessional marches were also composed by Lucas and introduced during the inauguration of President Richard R. Rush in April 2002 and are played at every commencement ceremony.
Lucas is a talented composer, violinist, pianist, and holds a doctorate in Ethnomusicology and Composition from the University of Illinois. After his arrival at CSU Channel Islands, Lucas served as an Academic Planner, Executive Assistant to the President, Chief of Staff, and in 2003 was appointed Provost and Vice President for Academic Affairs.  In 2008, Lucas accepted a position with the Chancellor's Office.
Lyrics
CSU Channel Islands Alma Mater
Words and music by Ted Lucas
© 2002
Sing we now of Channel Islands, Alma Mater dear.
Raise a song of friendship and sing for all to hear.
We shall always stand united, onward we shall sail!
With hearts and hands together, all Hail! Hail! Hail!
From the islands to the mountains, to the mighty shore,
Cal State Channel Islands shall stand for ever more.
Even in adversity the Dolphins shall prevail!
To thee, our Alma Mater, all Hail! Hail! Hail!