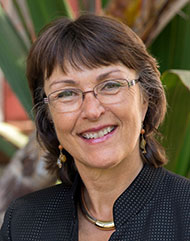 Welcome!
This is an exciting time at CSU Channel Islands (CI). The campus continues to grow, with new transfer students joining our campus this spring, a major new lab building about to begin construction, and programs and initiatives designed to engage and challenge our students.
I invite you to make use of the spring 2014 schedule of classes. In addition to information about course offerings the schedule contains important information about registration, deadlines and other resources.
We are glad that you are part of the CI experience and we look forward to creating opportunities for you to achieve your personal and educational goals.
Gayle E. Hutchinson
Provost and Vice President for Academic Affairs