Thursday, April 3
Opening Ceremony Keynote: Dr. Richard R. Rush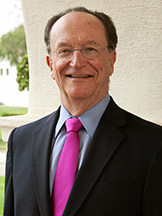 Richard R. Rush became president of California State University Channel Islands in June 2001. As head of the 23rd and newest campus in the California State University system, Dr. Rush has hired the faculty and senior administrative staff and overseen the creation and development of the University's strategic, academic and physical master plans, the budget and financial structure, infrastructure and road improvements, the acquisition of adjacent land, as well as successfully leading the University's efforts to achieve Accreditation from the Western Association of Schools and Colleges (WASC).
Before arriving at CI, Dr. Rush spent nine years as president of Minnesota State University, Mankato, where he created ties between MSU and regional industry, the local community, and civic leaders.
Prior to that, Dr. Rush played a key role in the founding of CSU San Marcos while serving as Vice President in Charge and, subsequently, as Executive Vice President.
Dr. Rush serves on the boards of the Economic Development Cooperative – Ventura County, Camarillo Chamber of Commerce, Community Memorial Hospital, Casa Pacifica, California Campus Compact, and American Association of State Colleges and Universities (AASCU) Council of State Representatives, among others. In addition, he serves as Chair of the P-16 Regional Council for the Improvement of College Attendance and Success which focuses on improving the college-going rates of students, particularly from communities with historically low participation. Dr. Rush lives in Camarillo with his wife, Jane.
Opening Panel Discussion, Vendor Expo and Networking: The Starkey Family and CI Student Panel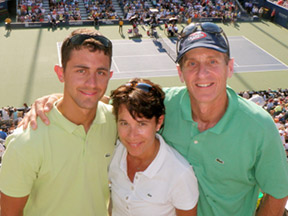 The founders of Aware Awake Alive will join CSU Channel Islands students to share their personal stories related to alcohol, tobacco and other drugs to kick off the vendor expo and conference networking opportunity.
In 2008 after the alcohol-related death of Carson, Scott and Julia Starkey's son, the Starkey family formed With Carson, a non-profit organization committed to preventing others from suffering such a tragedy.  The Starkeys have always been a close-knit family and continue that bond even though they are now separated.  Carson's brother Hayden coined the name With Carson as a way to continue including him in their daily lives, whether it is working towards their mission to help others, taking a hike or sharing a special moment.  The response to With Carson grew quickly and the Starkeys realized the need to reach more people, thus Aware Awake Alive was created in August 2011 and the global effort began.

In 2009, the Starkeys worked with Texas Senator Kirk Watson to secure the Carson Starkey Alcohol Awareness and Education Act.  This legislation permanently places alcohol education in the curriculum of all Texas public schools.  In 2011, the Starkeys and Senator Watson created the Texas 911 Lifeline Law.  This state law offers limited immunity that encourages minors to do the right thing and seek help in an alcohol-related emergency.
The Starkey family works closely with high schools and universities implementing the Aware Awake Alive Toolbox program on campuses across the country. The Starkeys actively coordinate with administrators and students to help customize a unique program specific to each campus while continuing to support their local communities of Austin, Texas and San Luis Obispo, California by providing educational scholarships.
Scott, Julia and Hayden Starkey have faced the loss of their beloved son and brother with a focus on turning their personal tragedy into something positive for the greater good. The Starkey family believes the loss of Carson has given them a unique gift to serve and help others. Julia and Scott commit themselves full-time to the mission of Aware Awake Alive. Hayden serves part-time while fulfilling his duties as a submarine officer in the United States Navy.

Friday, April 4
Awards/Closing Ceremony Luncheon Keynote: Louis Gossett, Jr.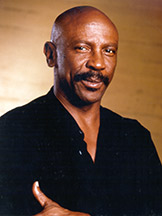 Born May 27, 1936 in Brooklyn, NY, Lou has a flair for projecting quiet authority and has scored well personally in a string of diverse and occasionally challenging roles.
The aspiring actor caught a break at his first Broadway audition for "Take A Giant Step" (1953), where, beating out 400 other candidates, the then 16-year-old landed the lead.
His acting career soon flourished and his work in the stage and film versions of the groundbreaking drama about African-American family life in Lorraine Hansberry's "A Raisin in the Sun" (1961) proved a watershed. This led to numerous appearances on network series in the 1960s and 70s culminating in 1977, when he picked up an Emmy for his eloquent portrayal of Fiddler in the landmark ABC miniseries "Roots."
Meanwhile, his big screen reputation grew with critically acclaimed work in such comedies as "The Landlord" (1970) "The Skin Game"(1971) with James Garner, "Travels with My Aunt" (1972) and the film adaptation of the Tony Award-winning drama "The River Niger" (1975). A riveting performance as a drug-dealing cutthroat stalking Nick Nolte and Jacqueline Bisset in "The Deep" (1977) catapulted him to wider popularity, but the tough by-the-book drill sergeant in "An Officer and a Gentleman" (1982) won him a Best Supporting Oscar that consolidated his place in the Hollywood hierarchy.
Following his Oscar, he made numerous big screen and television appearances ,being singled out for his work as Egyptian president Anwar Sadat in "Sadat"(1983), the sci-fi adventure "Enemy Mine" (1985) where his lizard-like makeup won kudos, and in the action adventure series "Iron Eagle" (1985,1986,1992,1995) which introduced him to a whole new generation of moviegoers.
Still going strong, Lou's trendsetting bald head and imposing six-foot-four physique served him well in "Diggstown" (1991) where he played a down-and-out boxer, a heroic headmaster in "Toy Soldiers" (1991).
Lou's well thought out and nuanced performances also managed to give credibility to socially themed projects such as "To Dance with Olivia" (1997), and the critically acclaimed "Jasper, Texas" (2003).
The recipient of every known acting accolade, including multiple Golden Globes, Emmys, and People's Choice Awards, Lou's performance has connected him with his fans on a global scale.  Organizations such as the NAACP, CARE, and the United States Armed Forces have used his likeness to add validity and integrity to their causes.
Recently, Lou was the new lead on the popular science fiction series "Stargate SG-1" introducing him to a new generation of fans worldwide.  Lou has also developed the Eracism Foundation, a nonprofit organization aimed at creating entertainment that helps bring awareness and education to issues such as racism, ignorance, and societal apathy.