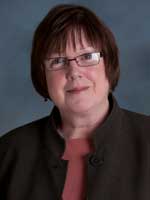 Elizabeth A. Say
is the Interim Provost at California State University Channel Islands, and has spent most of her professional career in the California State University System. Prior to joining CSUCI, she was the Dean of the College of Humanities at Cal State Northridge. As Dean, she provided leadership to a faculty and staff of almost 400 persons in eight departments as well as six interdisciplinary programs.
Previously, Say was the Associate Dean of Humanities (2001 – 2004), Professor and founding Chair of the Department of Women's Studies (1998 – 2001), and a faculty member in the Department of Religious Studies (1989 – 1998). An alumna of CSUN, she received her B.A. in English and Religious Studies in 1981, and her Ph.D. in Religious Social Ethics at USC in 1988.
Her research and publications are in the areas of women and religion, ethics, and academic administration. Her most recent publication is a co-edited collection titled The History and Future of Liberal Arts Education: From the Desk of the Dean. She has held leadership roles in the Council of Colleges of Arts and Sciences, the American Academy of Religion, the National Women's Studies Association, and the Western Commission on the Study of Religion.