Time and Labor Self-Service (TLSS)
Time & Labor Self-Service (TLSS) is an electronic time reporting tool. All hours worked in a day should be reported as a whole hour. Any partial hours should be entered into TLSS as a tenth of an hour. Refer to the following chart to help determine the fraction of an hour to be entered.
Report Fractions of Hours as Tenths

| Minutes | Tenths | Minutes | Tenths |
| --- | --- | --- | --- |
| 1 - 6 | 0.1 | 31 - 36 | 0.6 |
| 7 - 12 | 0.2 | 37 - 42 | 0.7 |
| 13 - 18 | 0.3 | 43 - 48 | 0.8 |
| 19 - 24 | 0.4 | 49 - 54 | 0.9 |
| 25 - 30 | 0.5 | 55 - 60 | 1 |
For example, if a student starts work at 8:00 a.m. and ends at 10:15 a.m., the student should report 2.30 hours for the day and not 2.25 hours.
---
Accessing TLSS
1) Log into myCI using your regular sign-in information.
2) Select "CI Personnel" under the My Links section.
3) Select "Self Service" under Menu.

4) Select "Report Time" followed by "Timesheet"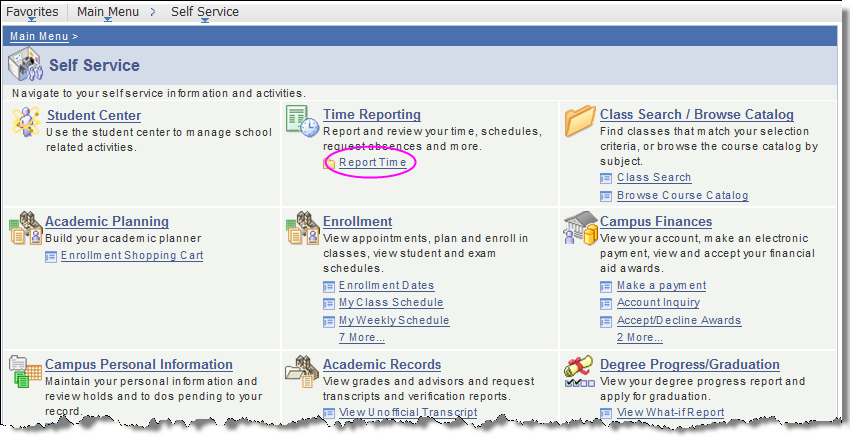 ---
Approver's Navigation
Select "Manager Self-Service"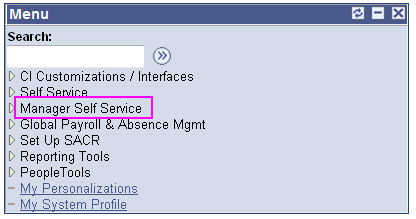 Review one of the Process Guides or FAQs available below for specific step-by-step instructions once you are in the system.
---
Student Employees
At the beginning of each pay period, employees are required to begin entering their time worked into their TLSS timesheet. Daily entry is recommended in order to ensure that the timesheet remains as up-to-date as possible. Reported time will be reviewed and approved by the employee's Manager (or designated approver). Reported time can only be approved if the student worker "Submits" his/her timesheet. Timesheets are to be submitted by the first day of the following pay period. If a student employee waits too long to enter their time for a pay period that has already passed, s/he runs the risk of no longer being able to access the timesheet for that pay period. See instructions for Late Timesheets.
---
Approvers
The main function of an Approver is to review employee-entered and submitted time and to counsel their student workers on making any necessary corrections. Approvers and Department Coordinators have the ability to enter changes on-behalf of an employee and may include a comment addressing why the change was made. Approvers are also responsible for approving payable time for their student workers.
---
Department TLSS Coordinators
TLSS Coordinators are the point of contact for TLSS questions and processing for the department. They are the liaisons between your department and the Payroll office. Coordinators may be given the additional responsibility of approving Payable Time, at the request of the Department Manager.
---
Late Timesheets
Time for prior payroll cycles cannot be entered via TLSS, so a paper timesheet must be completed and submitted to the Approver and/or Department T&L Coordinator for scanning/emailing to their designated payroll representative. When paper timesheets are needed to handle such exceptions (e.g. late time sheets or previous timesheet correction), the department is responsible for maintaining these copies for audit purposes. The Student Assistant Timesheet can be found on the Student Employment webpage under "Student Forms/Payroll."
---
Help?
For technical related questions including log-in and system navigation contact the IT Solution Center or 805-437-8552.
For payroll approval and process related questions contact payroll.services@csuci.edu or visit the Payroll Services page for Payroll Calendars and department contact information. You may also leave a message on the Payroll Services voice mail, ext. 3630, and a payroll representative will contact you.