When Ventura County sought to relocate Lewis Road to the west of Calleguas Creek in 2007, FS constructed a new bridge to accommodate the new entrance road. The University Campus, along with AECOM, began designing the new entrance road later in 2007. This road was built in order to accommodate traffic for the University's ultimate enrollment; to provide an aesthetically pleasing and memorable entrance to the campus; to provide access to future parking lots and play fields; and to improve emergency access to the University.
This project was met with a huge variety of challenges. The site of construction flooded frequently due to its location in the storm flow path of Long Grade Canyon Creek. The irrigation of surrounding agricultural lands also played a part in saturating the site. The elevation of the Calleguas Creek Levee above the surrounding land prevented proper drainage during these instances. In facing these challenges, the roadway was elevated above the surrounding land by several feet and an extensive set-back levee was installed to contain up to 25 year floods from the creek.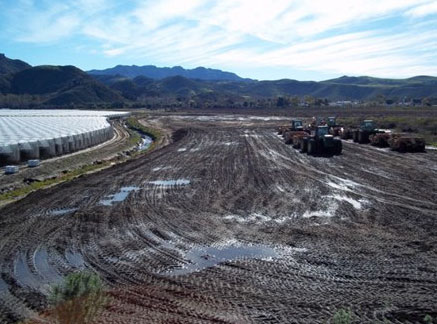 The University Drive construction site recovering from a flood.
Cultural artifacts were discovered early in the planning phase, as well as an endangered bird species that was nesting in the creek bed. These discoveries quickly became obstacles in the design process, requiring archaeologists and biologists to join the development team. Under the supervision of these independent professionals, students and faculty from the University's Environmental Science and Anthropology programs conducted a series of observations and explorations in dealing with these obstacles. Environmental consultants continued to monitor construction throughout the project, resolving issues concerning biology, water quality, and archeology. The construction team managed to schedule work around the nesting season of the endangered birds in the spring and summer as well as the recurrent flooding of the site during winter.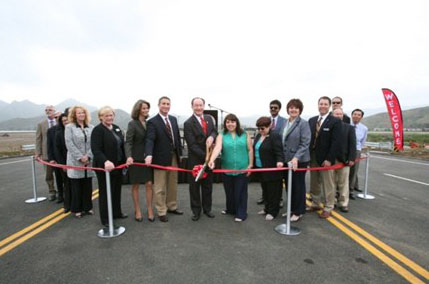 Administrative faculty, key community members, and other members of the CI community accompany President Rush in cutting the ribbon to present the completion of the new entrance road.
With the completion of the road in May of 2012, student and faculty volunteers from the University's Environmental Science program helped in planting the habitat restoration area. This has become an ongoing project for the CI community, allowing students to play a major role in campus sustainability efforts.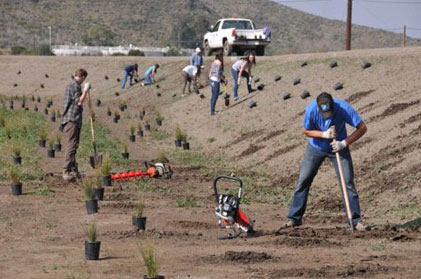 CI students engaging in habitat restoration in Long Grade Creek.