Reports and Awards at Channel Islands
Bee Campus USA
As of September 6th, 2018, CSU Channel Islands is the FIRST university in California to receive the esteemed recognition of being an official Bee Campus USA!
Not only are we the first in the CSU system to receive this honor, but we are the first 4-year university in the state of California. This recognition signifies that CSUCI is among the 51 most pollinator-friendly campuses in the entire nation. 
The Bee Campus USA recognition, created and enforced by Bee City USA: An Initiative of the Xerces Society, requires that seven guidelines be met by each participating institution. For more information about how our campus has reached these goals and beyond, please visit our official Bee Campus webpage.
Quarterly Sustainability Reports
Third Quarter Sustainability Report Fiscal Year 2017-18 (PDF, 3.1MB)
Second Quarter Sustainability Report Fiscal Year 2017-18 (PDF, 2.5MB)
First Quarter Sustainability Report Fiscal Year 2017-18 (PDF, 1.83 MB)
Third Quarter Sustainability Report Fiscal Year 2016-17 (PDF, 5.1MB)
Second Quarter Sustainability Report Fiscal Year 2016-17 (PDF, 3.7MB)
First Quarter Sustainability Report Fiscal Year 2016-17 (PDF, 897KB)
These Sustainability Reports are published every three months for the majority of the fiscal year. In the 4th quarter we create an Annual Sustainability Report that encompasses the entire fiscal year. These reports detail recent projects, finished and in progress, as well as their contributions to sustainability here at CSU Channel Islands.
Annual Sustainability Report 2016-17
2016-17 Annual Report (PDF, 5.4M)
This report summarizes sustainability efforts and achievements made by Facilities Services personnel in the 2016-2017 fiscal year.
Previous Annual Report:
2015-16 Annual Report (PDF, 659KB)
Tree Campus USA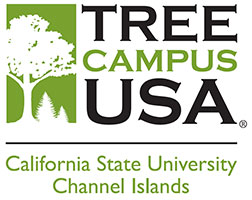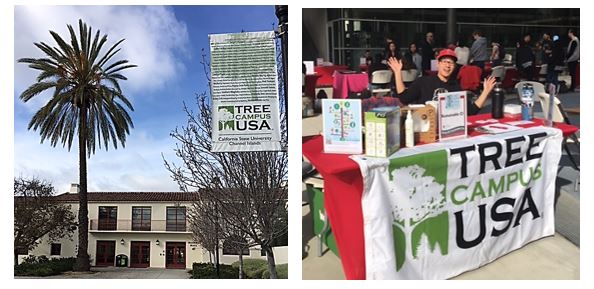 For the 6th year in a row, CSU Channel Islands has been awarded "Tree Campus USA" Recognition. This means that CI has met the Arbor Day Foundation's 5 guidelines that must be complied with in order to receive the award. To continuously achieve this recognition, CI has planted trees around campus and in the restoration site through the hard work of Facilities Services personnel and student and staff volunteers. At CSUCI, we prioritize the health and vitality of our native trees and plants, which is why we will continue to maintain our trees and keep planting more.
STARS
STARS
The Sustainability Tracking, Assessment, & Rating System (STARS) is a voluntary, self-reporting framework established by the Association for the Advancement of Sustainability in Higher Education (AASHE) to recognize and gauge relative progress toward sustainability by colleges and universities.
This past reporting period, we were awarded gold! On their reporting page, you can view our scores and those of other campuses around the world.
Greenhouse Gas Report
2010-2013 Greenhouse Gas Report (PDF, 370K)
Carbon Commitment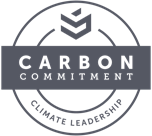 In April of 2015, President Rush signed a Carbon Commitment to acknowledge our campus' deep concern about unprecedented climate change, as well as to promise to take steps to reduce greenhouse gas emissions and eventually reach a more stable climate. Our next step of this commitment is to finish our Climate Action Plan by the 2018-2019 fiscal year with the involvement of the entire campus.
American College & University President's Climate Commitment
This is the website to Second Nature which contains the responsibilities made by the signatories of the climate commitment.