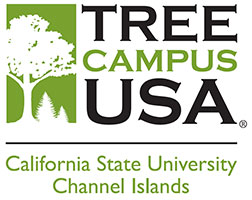 FS is pleased to announce that CI has earned the 2012 Tree Campus USA recognition. The Tree Campus USA Program recognizes college and university campuses that have demonstrated excellence in effective tree management, superiority in fostering healthy urban forests, and success in engaging the student population in utilizing service learning opportunities in forestry efforts.
CI received this great honor through its Urban Forestry Management Plan, which places aesthetics, safety, and sustainability in the urban forest as top priorities. This plan has provided CI with an environment for research, education, and recreation through responsible urban forest management.
CI's urban forest consists of 2,025 trees of 110 different species within the main campus. Some of these trees are over eighty years old, while others are newly planted. Due to a history of poor and/or incorrect management practices, many of CI's trees are not in ideal health. The Urban Forest Management Plan becomes essential in this aspect, as it promotes the protection and preservation of valuable campus resources by continuing the training of young trees and initiating corrective and mitigative maintenance of mature trees.
The CI community is privileged to be welcomed onto a beautiful campus by a healthy, well-maintained urban forest. Placing precedence on sustainable development, the Urban Forest Management Plan provides an overall framework for managing the urban forest of CI.
CI's 2012 Tree Campus USA recognition can be celebrated by the whole campus community by participating in Arbor Day. Arbor Day is the annual celebration of trees that promotes tree planting and care.
2012-2013 Arbor Day Celebration
For more information on CI's Tree Campus USA award and its Urban Forest Management Plan, contact Dave Chakraborty, Associate Vice President for Department of Facilities Services, at debabrata.chakraborty@csuci.edu, or Austin Eriksson, Student Assistant, at austin.eriksson680@csuci.edu.