Current Waste Management Achievements
CSU Channel Islands has been able to increase the diversion rate since 2009. We were able to accomplish the diversion rate by increasing the communication and educational efforts about waste management in the CI community.

The following goals have been set by the CSU Chancellors Office for all the CSU's:
Campuses shall seek to reduce the solid waste disposal rate by 50 percent (PRC § 42921) by 2016 which has been achieved in FY 2015-16. Reduce disposal by 80 percent by 2020, and move to zero waste thereafter.
The CSU will encourage the reduction of hazardous waste to the extent possible while supporting the academic program, this goal is tracked through STARS  (Sustainability Tracking and Rating System), APPA-ESAT (Energy and Sustainability Assessment Tool), and our periodic Greenhouse Gas Inventories.
To reach these goals we will need to increase the communication and educational efforts about waste management in the CI community.
Below you will see a graph that helps visualize our progress in waste minimization and landfill diversion.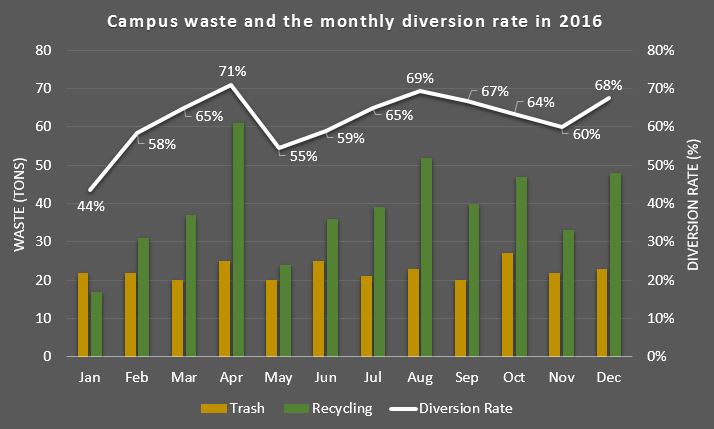 Waste Minimization Tips: 
Edit on screen; print and copy double-sided.
Choose reusable over disposables: dishware, silverware, bags for shopping, mugs and water bottles.
Buy rechargeable batteries instead of regular ones. This helps reduce the amount of hazardous materials you throw away, and can save you money.
Make it a habit to bring own coffee mug and dishware.
Campus Recycling: 
FS is on a continuous mission to increase the campus' recycling diversion rate. CI has exceeded our original goal of 60% recycling diversion with a current rate of 63% and has now raised the bar to a 70% recycling diversion goal. In Fall of 2012, new waste bins were installed throughout campus with specific compartments for waste and recyclable items. In January 2013, labels specifying "recycle" and "landfill" were placed on the bins, along with a sign reading "paper - glass - plastic - cans" over the recycle label to help guide the CI community in the recycling process.
Plans for Future Waste Management Success 

Behavioral modification towards waste management is essential to increase our diversion rate. Modifying individuals' behaviors towards waste management issues starts with education on what to recycle. With that in mind, the recently launched recycling campaign will consist of various communication efforts and outreach programs that build upon existing practices. This campaign will target the CI community through the use of social media outlets, posters, signage and presentations.  The following will be performed:
Updating our Facebook, Twitter, Instagram, and GreenScreens with the most up-to-date information on waste management and opportunities to get involved.
We monitor our waste diversion by keeping track of monthly trash and recycle rates.