What is #INSIGHTCI?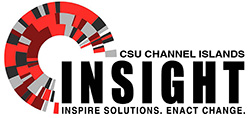 #INSIGHTCI is a student-community activism conference. This is the third annual conference that strives to connect the campus with community leaders focusing on social justice and meaningful change in society's systems. Attendees will leave with tools to be able to better organize around and implement their own goals for action.
When and where?
Monday, March 13
Noon to 4:15 p.m.
Student Union Building & Treehouse Courtyard
How Much Does it Cost?
Nothing. The conference is free for all attendees.
Are Meals Provided?
Yes. Lunch and dinner will be provided. But to ensure you have a meal available, we encourage you to register ahead of time.
---
Keynote
The conference's keynote speaker will be Art Activist, Tatyana Fazlalizadeh. Tatyana is a painter whose work ranges from the gallery to the streets, using visual art to tackle issues of violence in public spaces - from gender based street harassment to violence against black people. Tatyana is the creator of the street art series, Stop Telling Women to Smile. The public art project can be found on walls across the globe tackling gender based street harassment. She will connect our students, faculty and staff on how all of us can address social justice issues through art and education. We want CSUCI to have the opportunity to gain the knowledge and to build networks of additional support beyond CI in order to cultivate ideas and to implement their goals for action.
---
Schedule
Time and Location
Description
Noon to 1:30 p.m
Student Union Treehouse Courtyard
Welcome and Keynote
Light lunch will be served
1:45 p.m. to 2:45 p.m.
Student Union Building
Workshop Sessions
3 p.m. to 4:15 p.m.
Student Union Treehouse Courtyard
Call to Action and Closing
Light refreshments will be served
For more information, contact the Coordinator of Intercultural Services, Motoko Kitazumi at motoko.kitazumi@csuci.edu or 805-437-3243.