To set up a Staff/Faculty Bio page, please submit a request to the Help Desk so Web Services can help get you started.
With the new Bio template, editing bio page content has become very easy without the need of help from Web Services.
When uploading an image for the template, the image must be 150 x 200 pixels prior to being uploaded into echoCI.
When editing the Bio page, the template will appear as a table with two rows. To begin adding content, start from the second row and add the content that corresponds to the column header. You must NOT erase any of the parameters ("Image", "Name", "Title", "Phone/Other Content", "Email")
If one of these gets erased, the page will not function correctly and will need to be fixed by Web Services.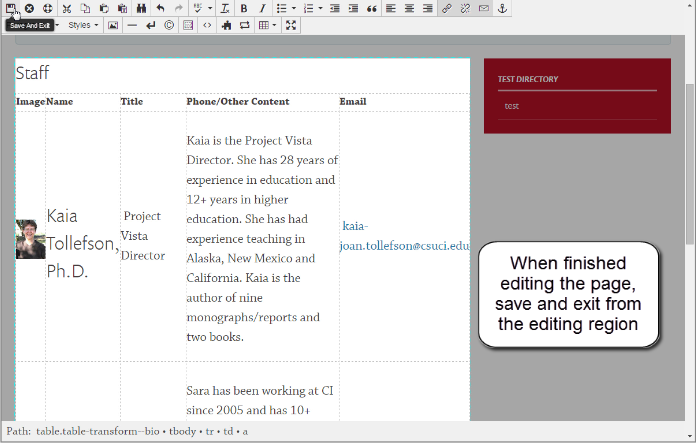 After you are done editing the page, click Save and view the preview version of the template. Make sure to proofread and check for any errors.
If your image does not show up in the preview page, make sure that the image is 150 x 200 pixels and that the image itself has been published and inserted into the web page.
Next, Publish the page. When it is finished publishing, review the live page and if there are errors that you are unable to fix or figure out, submit a work order to the help desk and explain the issue so that Web Services can assist you.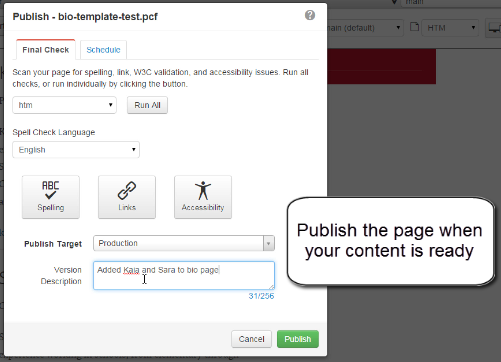 You are done!