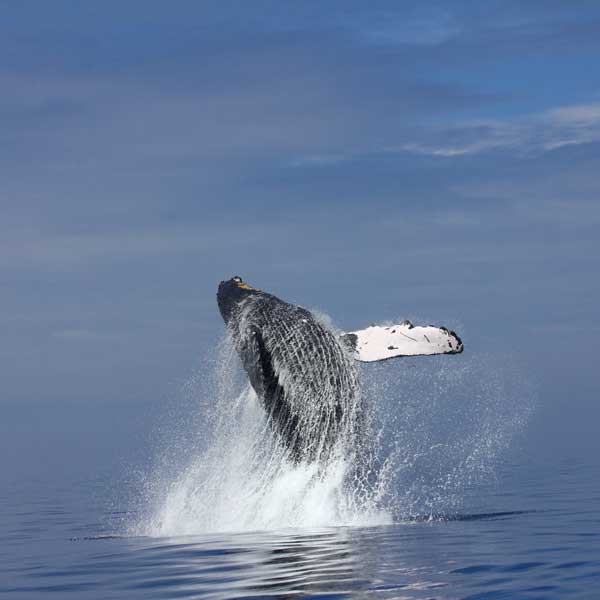 Rachel Cartwright
The sight of a whale leaping up from the waves, turning in mid-air and splashing down on its back has been both a marvel and a mystery to scientists for decades. It's still a marvel, but no longer a mystery thanks to CI Biology lecturer Rachel Cartwright, Ph.D., who just published research that explains why whales exert themselves in this spectacular display, called "breaching."
Scientists theorized this was a form of socializing or communicating, but Cartwright has discovered that for younger whales, it is a critical part of their development. "We have been able to establish a link between breaching and the development of their dive capacity," Cartwright said.
By analyzing muscle tissue samples taken from stranded, deceased whales, Cartwright, working with fellow faculty member Cori Newton, Ph.D. and a team of six undergraduates from the Biology program set out to investigate developmental differences in the muscle tissues. Their goal was to understand how young whales build up their dive capacity.
"Exercise releases calcium in the muscle cells and calcium triggers a molecular pathway that allows the whale's muscles to accumulate higher levels of a key protein, myoglobin." Cartwright explained. "Myoglobin is to muscles what hemoglobin is to blood. It's an oxygen-carrier. So, our initial goal was to look at changes in myoglobin levels. Our results clearly showed that these levels vary with levels of exercise."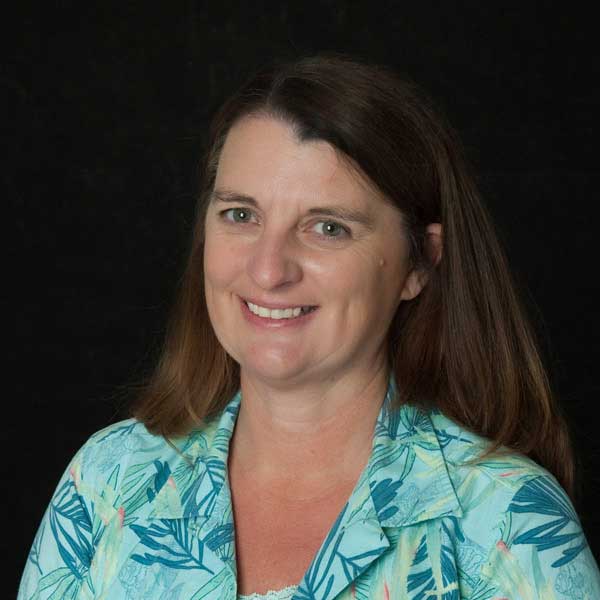 Cartwright's team researched young "baleen" whales. A "baleen" whale is one of about 14 species of whales that are equipped with plates of baleen, a substance similar to keratin. The plates allow them to strain ocean plankton. Humpback and gray whales are examples of baleen whales.
Undergraduate researcher Lila Hernandez, a senior majoring in Biology, said undergraduate research opportunities like this are part of what drew her to enroll at CI. "Because it's a smaller school, it gives students the opportunity to actually interact with the professor rather than sit in a class of 500 and just interact with the teacher's assistant," she said.
Hernandez said she and her five fellow undergraduate researchers were in charge of taking each muscle tissue sample through a series of processes to determine the level of myoglobin present.
Adding a new perspective to the research this year was an Unmanned Aerial Vehicle (UAV), which the team got permission to operate off the coast of Maui this year. At the helm is CI Business lecturer Alan Jaeger, and his brother Ryan Jaeger who both teach classes in UAV operation through the Ventura County Office of Education.
"The UAV we were using was specially designed to be waterproof, so we could operate it safely from the water," Alan Jaeger said. "Once we located where the young whale was, we would work with Dr. Cartwright and her team to hover it over the whale at a safe and correct altitude so they could get the best imagery for measurements," Alan Jaeger said. "It was a pretty novel use of the technology and we look forward to expanding the capabilities with help from our students."
Cartwright said the images captured by the UAV will help her continue her research, which has just begun. "Now that we really understand how baleen whales are developing in the early phases of their lives, we can now keep track of their body conditions and see how they go on and develop and mature," Cartwright said.