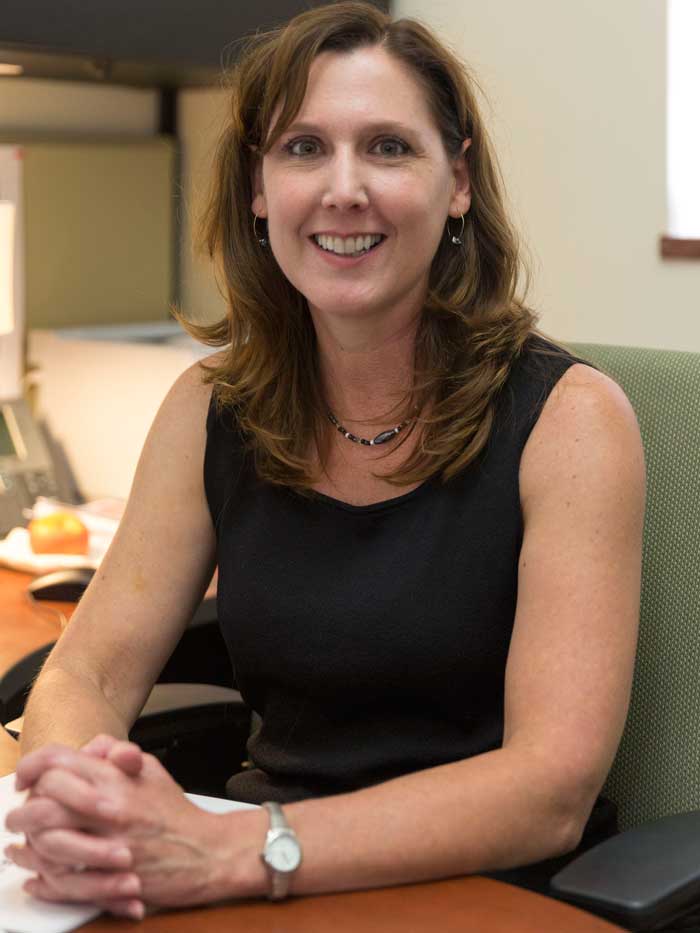 Mary McThomas
If you take a class with Assistant Professor of Political Science Mary McThomas, you may find yourself writing case briefs and arguing Supreme Court cases, helping undocumented college students, or interviewing detainees at an immigration detention center. Those are just a few of the ways McThomas challenges students to apply classroom theory to real-world legal and political issues.
"Politics impacts almost every facet of your life," she said. "It's a way to make significant changes to the world we live in."
McThomas was drawn to politics and justice at an early age. As an elementary school student, she debated Proposition 13, which lowered property taxes at the expense of California's public schools, around the kitchen table with her family. As she grew up, McThomas' interest in the issues of equality, justice, power and rebellion – and her participation in public discourse and political activism – grew. As a high schooler, she attended marches protesting U.S. involvement in Central America and wrote weekly letters to President Ronald Reagan.
"When you're too young to vote and see injustice, you can only impact the political process through activism," she said. "I became obsessed with what was fair, and acutely aware of how people were treated differently because of, for example, gender or race. I eventually became interested in law as well. I see the U.S. Constitution and Supreme Court cases as our country's public philosophy."
McThomas encourages students to connect with these issues more intimately in courses like Political Theory, Constitutional Law, Civil Rights & Civil Liberties, Immigration Politics & Policy, Ethics for a Free World, and Service-learning in Political Science. She breaks classes down into small groups, fostering discussions on questions such as: when is power legitimate? How do voter ID laws impact democratic legitimacy? Is the use of terror an illegitimate use of power?
McThomas also engages students in service-learning projects related to class topics. In Service Learning in Political Science, for example, students worked with undocumented college students, immigration detainees and migrant farmworkers to gain a better understanding of the obstacles they face and the political and legal remedies available.
Her hands-on, community-oriented approach earned McThomas the Center for Community Engagement's Best Practices in Service Learning Award in 2015. She frequently presents and publishes on issues of privacy, individual rights, immigration, and theories of citizenship. Her 2012 book, The Dual System of Privacy Rights in the United States, was released in paperback this year. Her second book, Performing Citizenship: Why Obligations Might be Owed to Undocumented Members of Our Communities, is currently being reviewed by publishers.
Most of all, McThomas says she relishes her role as a promoter of critical thought, political activism and civic involvement among students.
"I have found CI students to be more intellectually curious than students at other places I have taught," she said. "They want to know more and aren't afraid to ask questions. Many are involved in internships and political causes. I love that my job enables me to research questions I'm interested in, talk to smart people, and spend quality time with engaged students."