The next class will be held on the CSU Channel Islands Campus in the Spring of 2019. This is a 12-hour class (3 hours each day) and participants must attend all 4 sessions to complete the program.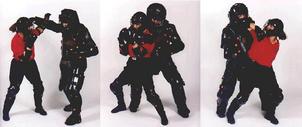 Could you effectively defend yourself if attacked?
R.A.D. (Rape Aggression Defense) is the largest women's self-defense training program in the country, being taught by more than 350 universities and municipal law enforcement departments nationwide.
The Rape Aggression Defense System is a program of realistic, self-defense tactics and techniques. The R.A.D. system is a comprehensive course for women, which begins with awareness, prevention, risk reduction and avoidance, while progressing on to the basics of hands-on defense training.
The CSU Channel Islands Police Department will be offering the R.A.D. class throughout the year for students, staff, and faculty of CSU Channel Islands. This is a 12 hour class (3 hours each day) with a $20 registration fee due at sign-up. This will be fully refunded upon completion of program. Class size is limited. Register, in person, at Police and Parking Services located in Placer Hall. A waiting list is also being established so if you miss this class others will be offered in the near future.
If you have additional questions, please contact RAD@csuci.edu
THE R.A.D. ADVANTAGE:
Has established the standard for female self-defense programs
Offers no-nonsense, practical techniques of defense
Provides realistic and dynamic hands-on training
Provides students with a comprehensive Reference Manual