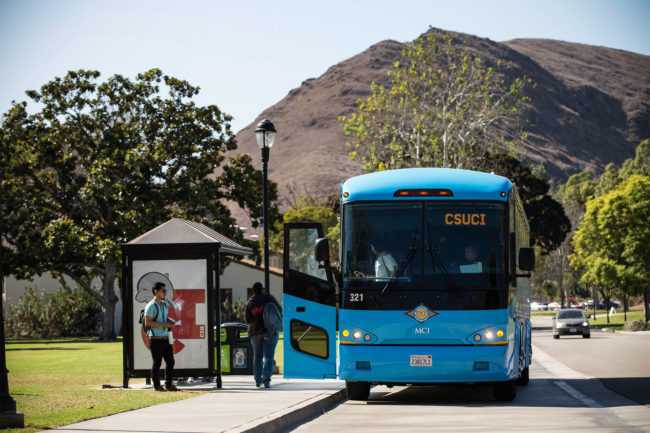 WHO: All students, faculty and staff of CSU Channel Islands are welcome to enjoy the benefits of public transportation via the Vista Bus.
WHEN: The Vista Bus Shuttle Service is available Monday through Friday 7:00am to 10:30pm. The bus is also scheduled Saturdays and Sundays until 5:30PM to and from Oxnard and 7:30am to 5:20pm to and from the Camarillo Metrolink Station.
WHERE: The Vista Bus Shuttle stop on the CI campus is located on Santa Barbara St. and Universtiy Dr. The shuttle card is a county-wide bus pass, which can be used with other Ventura County area bus services which transfer to the CSU Channel Islands shuttles. Riders are welcome to park for free at one of the sites and ride the shuttle to campus.
COST: The cost of the shuttle card is $25.00 per academic semester. Summer session is $21.87 for students, faculty and staff. Shuttle cards are available for purchase at Transportation and Parking Services customer service. located in Placer Hall, (Monday- Friday 8AM to 5PM)
TO PURCHASE: To utilize this service and purchase your shuttle pass, stop by Transportation and Parking Services remember, we only accept cash/checks in the office. After purchasing, the shuttle pass is processed through the individuals student / faculty /staff campus ID card so be sure to bring this ID with you. The shuttle pass is available the same day that you purchased it
Vista Bus Shuttle Service: There are two satellite Vista Bus shuttle sites:
1- Near Oxnard College - (SW Bard Road & Simpson Drive)
2- Camarillo Metrolink Station - (Lewis Road & Ventura Blvd.)
CLICK HERE FOR VISTA BUS ROUTES AND SCHEDULES: or call 1(800) 438-1112.