Welcome to Admissions & Recruitment Virtual Services!
In response to the ongoing COVID-19 pandemic, our offices will be working remotely. In order to better serve our students, we are now offering virtual services to help answer questions from students and/or families. View our Virtual Sessions below. We hope you participate and see you in the future!
Live Chat with an Admissions Representative: We are currently offering students an opportunity to ask questions from 10:00 a.m. to 2:00 p.m. every weekday (except holidays) through our live chat. Visit any of our admission pages, including this one and click on the Live Chat icon that appears on your bottom right hand corner of your screen. The Admissions office is also available via email admissions@csuci.edu or phone (805) 437-8520. Please view our phone hours here. 
Spring 2021 - My Transfer Credit Virtual Session: Join the Registrar's Office to learn how to view you transfer credit in CI Records and check for pre-requisites before you register for your spring semester classes.  (Having trouble RSVP'ing, email campus.tours@csuci.edu) 
Wednesday, November 4 @ 3:30-5:00 p.m. RSVP Here
---
Virtual Fall 2021 Cal State Apply Application Information Sessions: If you are interested in applying to our campus for Fall 2021? Learn more about the application process and tips on how to submit your application online from an Admissions Counselor. If you still have questions about the application, schedule a quick meeting with one of our Admission Counselors. 

Si es un estudiante de otoño de 2021 y está interesado en postularse a nuestro colegio, regístrese en esta sesión para obtener más información sobre el proceso de solicitud y consejos sobre cómo enviar su solicitud en línea para un Consejero de Admisiones.
If you are an incoming freshman from a high school, RSVP for one of these dates:  
Monday, November 16 @ 3:30-5:00 p.m. RSVP Here
Tuesday, November 17 @ 3:30-5:00 p.m.RSVP Here
Si eres un estudiante de primer año entrante de una escuela secundaria, confirma tu asistencia para una sesión en español:
(In Spanish) Tuesday, December 1 @ 3:30-5:00 p.m. RSVP Here
If you are an incoming transfer student from another university or community college, RSVP for one of these dates :
Wednesday, November 18 @ 3:30-5:00 p.m.RSVP Here
Thursday, November 19 @ 3:30-5:00 p.m. RSVP Here

Si es un estudiante de transferencia entrante de otra universidad o colegio comunitario, confirme su asistenciapara una sesión en español:
(In Spanish) Wednesday, December 2 @ 3:30-5:00 p.m. RSVP Here

---
Virtual Family & Individual Tours: every Tuesday/Thursday @ 2:00p.m.
The Admissions Office at CSU Channel Islands provides an opportunity for families and individuals to receive an admissions presentation and a guided virtual tour. Students will learn about the undergraduate application process, campus resources, and student life. For more information and to register visit, go.csuci.edu/FamilyTours.

Virtual Campus Preview Day: If you haven't visited our campus yet, please join us for our next Virtual Campus Preview Day on select Saturdays this fall. Our very own Admissions Counselor & Student Ambassadors will be providing an virtual undergraduate admissions presentation, they will talk about why they chose CSUCI and they will help answer any questions you may have!
To RSVP for available dates, visit: go.csuci.edu/CPD
---
Get to know CSU Channel Islands from our current students!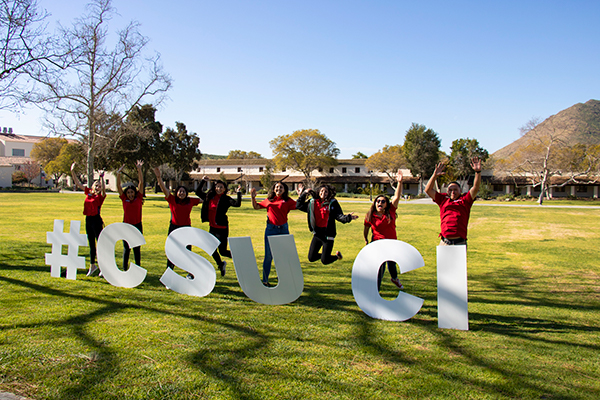 Inside CSUCI Admissions Network (iCAN) is brought to you by our student ambassadors from Admissions & Recruitment. They will be bringing you 10 episodes this year packed with helpful tips, an inside look of our academic programs and clubs & organizations and so much more. go.csuci.edu/FutureDolphin  
Watch more campus videos by visiting: go.csuci.edu/Get2Know
---
The "Admitted African American Experience" is a virtual Zoom session intended for admitted African American students to connect with current African American students, staff, and faculty members from CSUCI. This session will provide admitted students the opportunity to ask questions and speak directly to our campus representatives about the various programs, organizations, resources, and personal experiences available on our campus. For questions about this event, please email Tracey Johnson at tracey.johnson@csuci.edu.
Did you miss our previous "Admitted African American Experience" sessions?
Check out our recorded sessions below:
Video from the April 14 session – Why did I choose CI, ROI leadership team, Black/African American campus life and clubs, College challenges, Camarillo/CI area.
Video from the April 16 session – Favorite CI experience, Black Student Union, Staff/Faculty connections, Goals, Advice.
Video from the April 17 session – High school transition, Registering for classes, Financial barriers, Finding jobs, Life goals, Being Black/African American at CI, AATA.
---
Zoom offers live virtual events and broadcasting through mobile and computer devices. You may access Zoom through a computer/mobile app or any web browser. If you are unable to install the Zoom application on your computer or mobile device, you can join through a web browser. For full instructions and troubleshooting please see Zoom's Help Center webpage.