Welcome to Admissions & Recruitment Virtual Services!
In response to the ongoing COVID-19 pandemic, our offices will be working remotely. In order to better serve our students, we are now offering virtual services to help answer questions from students and/or families. View our Virtual Sessions below. We hope you participate and see you in the future!
Live Chat with an Admissions Representative: We are currently offering students an opportunity to ask questions from 10:00 a.m. to 3:00 p.m. every weekday (except holidays) through our live chat. Visit any of our admission pages, including this one and click on the Live Chat icon that appears on your bottom right hand corner of your screen. The Admissions office is also available via email admissions@csuci.edu or phone (805) 437-8520. Please view our live chat and phone hours here. 
Virtual Family & Individual Tours: every Tuesday/Thursday @ 2:00 p.m.
The Admissions Office at CSU Channel Islands provides an opportunity for families and individuals to receive an admissions presentation and a guided virtual tour. Students will learn about the undergraduate application process, campus resources, and student life. For more information and to register visit, go.csuci.edu/FamilyTours.

Virtual Campus Preview Day: Join us for our next Virtual Campus Preview Day on select Saturdays this fall. Our very own Admissions Counselor & Student Ambassadors will be providing an virtual undergraduate admissions presentation, they will talk about why they chose CSUCI and they will help answer any questions you may have!
To RSVP for available dates, visit: go.csuci.edu/CPD
---
Stay Connected! Follow us on Instagram! 


Watch us LIVE on Instagram as our Student Ambassadors take you each month on a mini tour of CSUCI. Ask questions, interact and see how beautiful our campus really is!  
Upcoming Dates: 
Friday, February 26th @ 3:30 p.m. - We will explore North Quad, Del Norte, Smith Decision Center, Napa Hall, and Madera Hall
Friday, March 26th @ 3:30 p.m. - We will explore Sage Hall, Yuba Hall & Town Center
Friday, April 30th @ 3:30 p.m. - We will explore Housing Villages 

Watch our previous IGTV Mini Tours of CSUCI: 

---
Get to know CSU Channel Islands from our current students!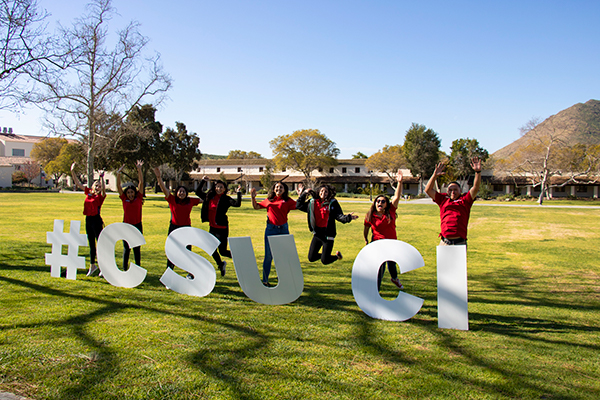 Inside CSUCI Admissions Network (iCAN) is brought to you by our student ambassadors from Admissions & Recruitment. They will be bringing you 10 episodes this year packed with helpful tips, an inside look of our academic programs and clubs & organizations and so much more. go.csuci.edu/FutureDolphin  
Watch more campus videos by visiting: go.csuci.edu/Get2Know
---
Zoom offers live virtual events and broadcasting through mobile and computer devices. You may access Zoom through a computer/mobile app or any web browser. If you are unable to install the Zoom application on your computer or mobile device, you can join through a web browser. For full instructions and troubleshooting please see Zoom's Help Center webpage.