Art students earn First Place Awards at CSU Media Arts Festival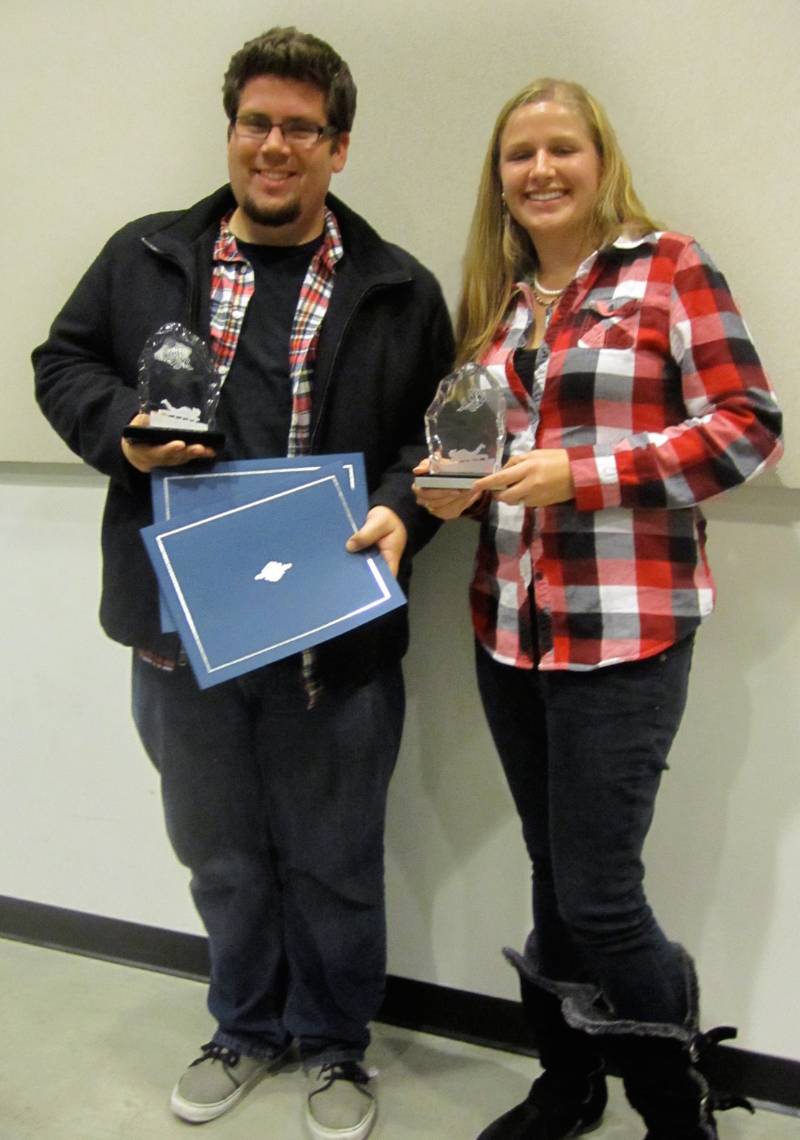 Two CI students won top honors at the 2011 CSU Media Arts Festival held Nov. 13 at CSU Fullerton. It was the ninth consecutive year that CI students earned top honors. Shannon Scobey, a 2011 graduate in art from Thousand Oaks, and Ryan Hunnewell, a senior Art major from Simi Valley, were awarded the Rosebud (First Place) award for their video game "Storybook Adventure."  Scobey and Hunnewell each received a $500 cash prize. Hunnewell also received a 3rd place award in the Interactive Media category for his Web site: "Cortex Clothing," and 3rd place for his video "Excuses" in the Experimental Video category.

The annual event allows CSU students to present their film, video, and interactive media work for critical review. A total of 131 student entries from the CSU system were received and judged by a panel of faculty as well as industry experts who chose 39 finalists for award competition within nine categories: animation, documentary, experimental, interactive, music video, narrative, television, feature screenplay, short screenplay, and the newest category, video game. Visit http://www.mediaartsfestival.org for a full listing of all award winners, plus videos of the Rosebud Award-winning films. 

For additional information contact Liz King, Associate Professor of Art, at ext. 8556 or liz.king@csuci.edu. 

Traffic Improvement Concept Plan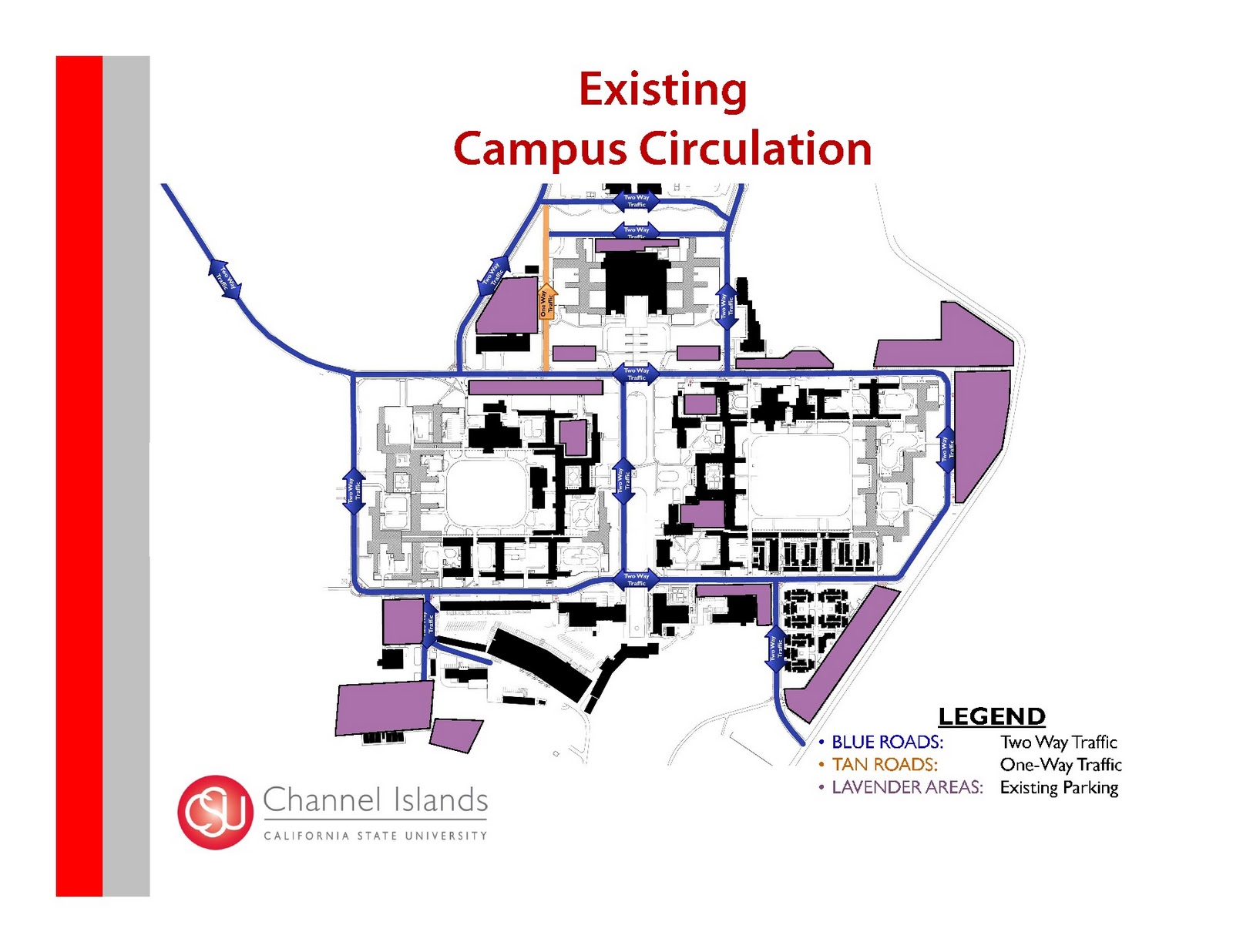 University Police and Operations, Planning & Construction (OP&C) have been charged with developing a University plan that promotes a pedestrian-friendly environment and encourages alternate modes of transportation as the University increases enrollment and overall population.  A concept plan has been created that changes vehicular circulation patterns, proposes building new parking lots, and provides bike paths for the campus. The concept plan includes making the campus loop road (University Drive, Santa Paula Street, Ventura Street and Santa Barbara Avenue) a partial one-way route for vehicles, bike lanes on University Drive and Ventura Street, the closure of Los Angeles Street to create a new pedestrian mall, and a new parking lot adjacent to the new entry road. 

To ensure that the campus community can fully understand the plan and provide feedback prior to the development of a final plan, open forums are being facilitated by OP&C through the end of the semester. Over the coming months, staff will be working with a traffic consultant to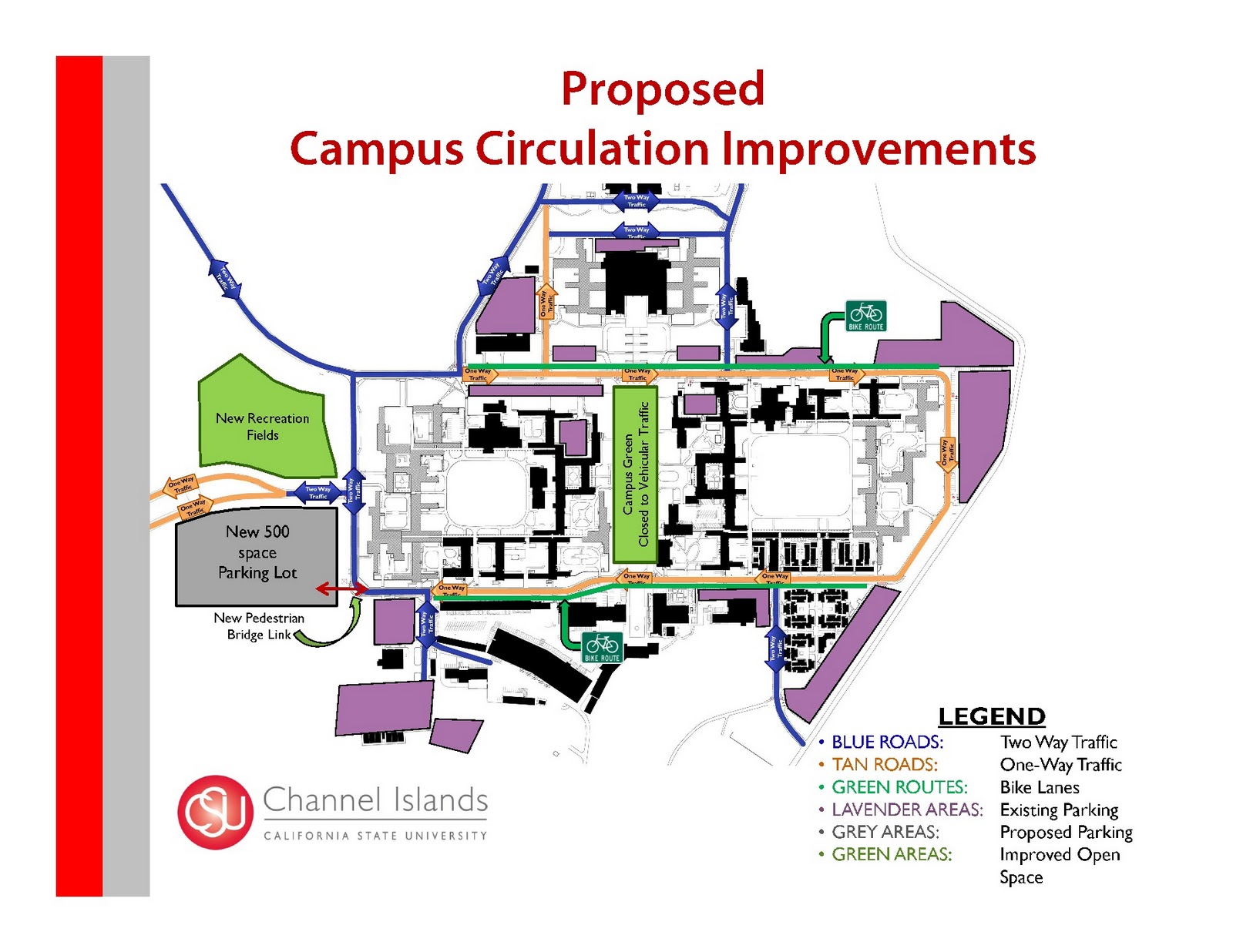 finalize a plan that integrates the feedback received from the campus community, and follow-up sessions will be made during the spring semester that will present the final plan.

A blog for feedback and suggestions has been established and everyone is encouraged to provide feedback. The Traffic Improvement Concept Plan blog can be found at:
http://opc-ci.blogspot.com/


For additional information contact Operations, Planning & Construction at ext. 8461 or opcworkcenter@csuci.edu.
Model UN Team Wins Recognition at Seattle Conference


From Nov. 17-20, 11 CI students participated in the Northwest Model United Nations conference held in Seattle, Washington. Two students were recognized for excellent committee work and the entire delegation was awarded with the Distinguished Delegation award. Steven Jordan, portraying Cameroon in the Human Rights Council, won a Distinguished Delegate award for work on trafficking in persons and the human rights situation in Palestine. This was Steven's first competition. Kurt Harris won a Distinguished Delegate award for portraying India in the UN Development Program. That committee dealt with the impact of climate change on water resources and HIV/AIDS and its impact on conflict affected Situations

Other team members included: Matthew Bateman, Stephanie Garcia, Nicholas Kapetanakis, Dulce Lopez, Andre Ross, Sara Sanders, Pieter Turley, David Winston, and Trevor Yslas. Andrea Grove and Chris Scholl from the Political Science program served as advisors to the group.

The CI Model United Nations team formed in spring 2008 and has competed in three events each year since then: Northwest MUN in Seattle in the fall, West MUN in Santa Barbara in spring, and MUN of the Far West in the spring. These events have been funded by IRA funds, the Center for Community Engagement, and the Political Science program. Model UN is a simulation of the UN's committees. Students step into the shoes of ambassadors from UN member states to research and debate current issues on the organization's agenda. Each spring semester, students enrolled in POLS 490: Special topics—Model UN will earn course credit for their studies. The team is an initiative of the Center for Community Engagement and the Political Science program.

For additional information, contact Andrea Grove, Professor of Political Science, at ext. 3124 or andrea.grove@csuci.edu.
Students to be included in Campus Web Directory
The start of the spring semester will see a change in the Campus Web Directory. For the first time, CI students will be listed along with faculty, staff and departments. Student information will only include campus email addresses and major area of study. Beginning Dec 10, students will have the ability to opt-out of the directory via myCI.

The decision to include students in the directory was a collaborative one that began with conversations with representatives from Student Affairs, as well as several meetings with the ASI Board.

A sneak preview has been presented to various employee groups on campus and has been well received. The Division of Technology & Communication is leading the project and look forward to receiving comments from the student body once the system is up and running.

For additional information contact Chris Mattia, Director of Academic Technology, at ext. 8924 or chris.mattia@csuci.edu
© Wavelength December 1, 2011