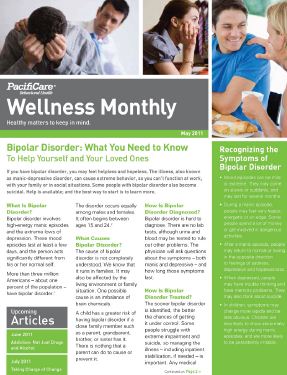 If you have bipolar disorder, you may feel helpless and hopeless. The illness, also known as manic-depressive disorder, can cause extreme behavior, so you can't function at work, with your family or in social situations. Some people with bipolar disorder also become suicidal. Help is available; and the best way to start is to learn more.
Bipolar disorder involves high-energy manic episodes and the extreme lows of depression. These mood episodes last at least a few days, and the person acts significantly different from his or her normal self. More than three million Americans – about one percent of the population – have bipolar disorder.
Read more: Download May 2011 PacifiCare Wellness Monthly (PDF, 189.2KB)
For additional information contact Diana Enos, Benefits Coordinator at ext. 8426 or diana.enos@csuci.edu.