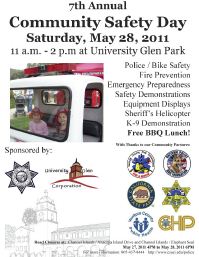 The 7th Annual Community Safety Day sponsored by CI's Police & Parking Services and University Auxiliary Services, Inc. is scheduled for Saturday, May 28 from 11 a.m.to 2 p.m.More than 300 participants from the University Glen and campus community are expected to attend this year; this communitybuilding event has become one of the largest and most popular for our residents, faculty, staff, and guests.

This year's event will include information on police/bike safety, fire prevention, emergency preparedness, safety demonstrations, equipment displays, Sheriff's helicopter, K-9 demonstration with Hero, and a free BBQ lunch provided by University Glen Hospitality Services.

This year, our community partners include the National Police Dog Foundation, Ventura County Fire Department, California State Parks, Ventura County Sheriff, Ventura County Public Health and the California Highway Patrol.Vendors will include a wide array of services and community groups, including Southern California Edison, CI Campus Recreation Summer Youth Waterfront Sports Camp, our neighborhood Cub Scout Pack, SOS Survival Products, plus many more. In addition, there will be lots of entertainment for children.

Road closures for the event will be at the following University Glen locations: Channel Islands and Anacapa Island Drives and Channel Islands Drive and Elephant Seal Cove beginning May 27, 4 p.m. to May 28, 6 p.m.

For additional information about Community Safety Day, please visit our web site at http://www.csuci.edu/ police or contact Deanne Ellison, Community Outreach Administrator, at ext. 3151 or deanne.ellison@csuci. edu.