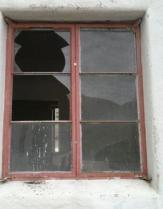 Since January 1, 2011, the CI Police Department has received more than 18 reports of vandalism involving damage to University property. These cases have ranged from graffiti in restrooms to the smashing of windows and breaking of doors in unoccupied buildings on campus. The problem becomes compounded and a drain on campus resources used to make repairs. Repair costs are in excess of $8,000 this semester alone.
If you have any information regarding vandalism cases, please contact the CI Police Department at 805-437-8444. You may also report this crime anonymously by calling WeTip at 1-800-78-CRIME. You become eligible for a reward up to $1,000 if your tip leads to an arrest and conviction.
For additional information contact Corporal Kevin Medley, Crime Prevention Coordinator, at 437-8444 or kevin.medley@csuci.edu.