Annual fall sweatshirt sale slated
The Cove Bookstore's annual fall sweatshirt sale is Monday, Oct. 31.  Sweatshirts are available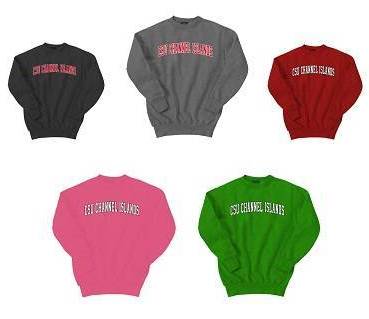 in five gorgeous colors, and at $14 each, you can buy one for everyone on your holiday gift list. The sale begins at 7:30 a.m.
For additional information, contact Fah Azarmsa, Bookstore Manager, at ext. 8833 or fah.azarmsa@csuci.edu.
Academic Advising collecting school supplies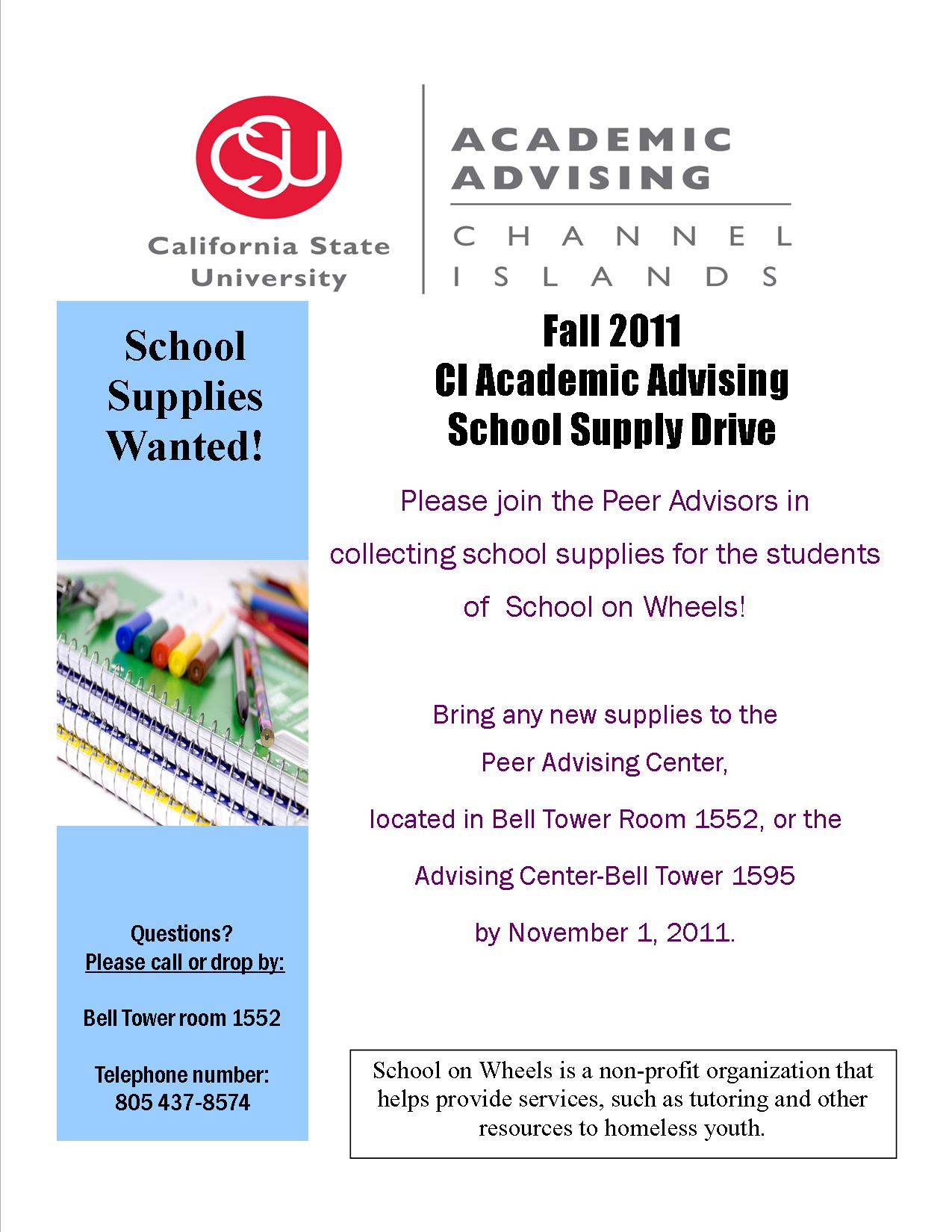 Please help Peer Advisors collect school supplies for the students of School on Wheels, a non-profit organization that helps provide services, such as tutoring and other resources to homeless youth. Bring any new supplies to the Peer Advising Center located in Bell Tower room 1552, or the Advising Center, Bell Tower room 1595 by Tuesday, Nov. 1.
For additional information, contact Sara Alcala, Academic Advising, at ext. 8571 or sara.alcala@csuci.edu.


 


 
3rd annual CI Walk Across America and Relay for Life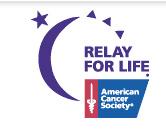 Over 150 campus community members are participating in the 3rd Annual CI Walk Across America (WAA).  Of the 11 teams, seven are at or ahead of the suggested milestone for week three with barely 3,000 steps separating them.  The four remaining teams are hot on their heels. Lucky WAA participants who attended the Benefits Fair last week received a 1,000 step bonus. 
Missed the Fair and want another chance to increase your steps?  Well, your next chance is right around the corner (pun intended) on the track at Adolfo Camarillo High School this weekend.  Walkers who attend the Camarillo Relay for Life event will get to DOUBLE the steps they take while at the Relay.  The Relay for Life is a fantastic 24 hour event that begins at 10 a.m. Saturday, Oct. 15 and ends at 10 a.m. Sunday, Oct. 16.  To qualify for the bonus, WAA walkers must register at the easily recognizable CI Walkin' Dolphins campsite when they arrive at the track and must check out when they leave. 
There will be music, food, various booths and all sorts of fun distractions throughout the day and night, so lace up your sneakers and head to the high school!!  Continue your healthy new habit of walking more and come support all of the CI teams at this year's incredible event sponsored by the American Cancer Society. 




Local Rescue and Shelter Animals Need Your Help
As the air turns crisp and leaves begin to fall, we are reminded that in the coming weeks we'll need a sweater to go about our day and an extra blanket to keep us warm at night. Even our pets will notice the cool temperatures and tightly curling up at our feet or by the fireplace. However the dogs and other animals waiting for adoption at rescues and shelters are not as lucky. Many will spend the cold winter in outdoor kennels and un-insulated doghouses. The cold season is especially tough on short-hair breeds that lack the fur to keep themselves warm. But you can help! CI Animal Advocates is sponsoring a blanket drive during October and will be placing donation boxes across the campus. Please donate used blankets (preferably without stuffing) or towels in any of the boxes or drop them off at Aliso Hall room 203.
For additional information contact CI Animal Advocate's President Tessa Karbum at tessa.karbum723@myci.csuci.edu or faculty advisor Dr. Ruben Alarcón at ruben.alarcon@csuci.edu.



Identity Style Guide Updates
Several updates have been made to the University's Identity Style Guide published by the Communication & Marketing office. Changes include revisions to information regarding use of CI Spirit logos as well as updates to the stationery approved designations, extension designations, University boilerplate description, and photography/filming information.The updated Identity Style Guide and logo files are available for reference and use on the public shared drive at Z:\LOGOS.
For additional information contact Joanna Murphy, Assistant Director of Communication & Marketing, at ext. 8915 or joanna.murphy@csuci.edu.
© Wavelength October 13, 2011