"Portraits of Courage: Latinos Shaping a Nation"
Multicultural Programs hosted "Portraits of Courage: Latinos Shaping a Nation" a presention by Will & Company, on Sept. 21. "Portraits of Courage" was a live play that showcased the lives of several Latinos who have made vital contributions to American culture and society. Two actors portrayed historically-based characters that have influenced science, civil rights, sports, the economy, the Armed Services, labor relations, education, and the arts.
The audience met Roberto Clemente, a baseball superhero who died in 1972 while en route to deliver aid to earthquake victims in Nicaragua; Gustavo Garcia, a lawyer who won the landmark case Hernandez v. Texas before the US Supreme Court and broke racial discrimination in jury selection; a young soldier who described the contributions of the 43 Latino Medal of Honor winners and their place in American history; Andrea Perez, who told her story of Perez v. Sharp where she struck down the miscegenation law in California allowing for interracial marriages; Luisa Moreno, who traversed America becoming the only Latina to rise to executive rank in a major union when she was elected the Vice President of the United Cannery, Agricultural, Packing and Allied Workers; and a migrant farm worker and his daughter, who described their effects on America's current workforce and economy and the contributions of Dolores Huerta to workers' rights.
Will & Company is committed to its mission of "actors reflective of their audience", they seek to represent the country by promoting and presenting artists of diverse ethnicities, genders, orientation and abilities.
For additional information please contact Jennifer Chapman, Coordinator of Multicultural Programs at ext. 3243 or jennifer.chapman@cscui.edu.
---

CI Alumni & Friends 8th Annual Dodger Day
CSU Channel Islands Alumni & Friends Association held it's 8th Annual CI Alumni Dodger Day on Sunday, September 18, 2011. 100 people were in attendance for the Dodgers vs. Pittsburgh Pirates game with the Dodgers winning 15-1!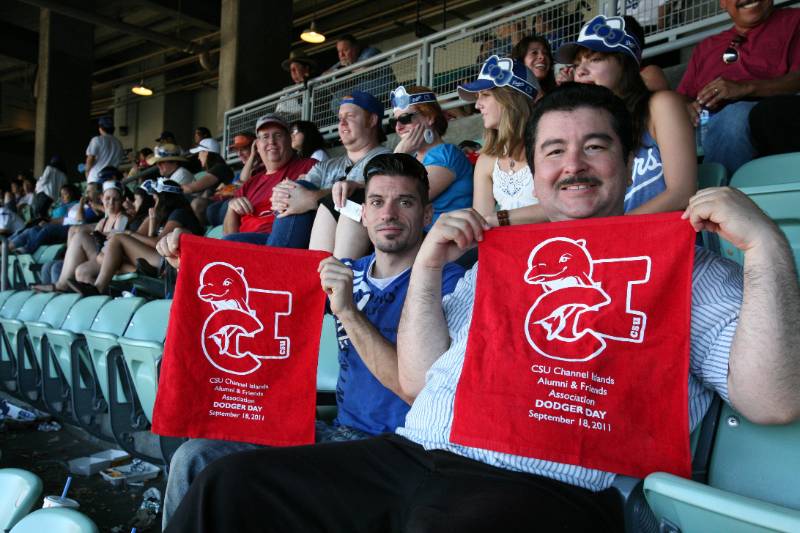 © wavelength September 29, 2011