National Collegiate Alcohol Awareness Week - Oct. 21-27
Did you know? 
If a driver under the age of 21 is arrested for DUI with only .01 blood alcohol their driver's license can be suspended from 1-3 years.
If you have been drinking and are a passenger in a car in which the driver is arrested for driving under the influence, you could also be arrested for public intoxication depending on how much alcohol you have consumed. 
A 12 ounce beer, 1.5 ounces of whiskey, or 5 ounces of wine all have the same amount of alcohol
After a person stops drinking, their blood alcohol level will continue to rise for up to an hour
Remember to be SMART
S – Set limits
M – Make a plan
A – Act to help others
R – Respect choices of peers
T – Talk to your friend
For more information contact Corporal Dan Russ at ext. 8444 ordan.russ@csuci.edu.

Flu Vaccine Clinics- Oct. 24 & 25
Student Health Services (SHS) has flu vaccines available for all CI faculty, staff and currently enrolled students.  Stop by during the days and times listed below to receive your vaccine.
Students= free
Facutly/staff= $2.00 (exact change please)
| Location | Day | Date | Time |
| --- | --- | --- | --- |
| Bell Tower East- Mission Lounge | Wednesday | 10/24/12 | 10:30 a.m. - 12:30 p.m. |
| Bell Tower East- Mission Lounge | Thursday | 10/25/12 | 1:30 p.m. - 3:30 p.m. |

If you have questions about whether you should get a flu vaccine, consult a healthcare provider.
For more information contact Student Health Services at ext. 8828 or student.health@csuci.edu.

Economic Research Luncheon- Oct. 26
CI's Institute for Global Economic Research (IGER) will hold its semi-annual Economic Research Luncheon focusing on the global economy, including the U.S., Europe, and China. The event will feature a presentation by Dr. Sung Won Sohn, IGER's Director. Sohn will discuss the concept of reverse innovation and how multinational companies are benefitting from innovations occurring overseas.  He will also discuss the economic implications of the upcoming presidential election. 

This event, which is free and open to the public, will take place on Friday, Oct. 26, in the Petit Salonlocated in the North Quad.  It will begin at 12 noon and includes lunch. To register for the event, please visit http://iger.csuci.edu.  To view the full flyer, click here. (PDF, 238KB)
For more information contact Merissa Stith, Events Coordinator, at ext. 8548 or Merissa.stith@csuci.edu.

Day of the Dead – Oct. 29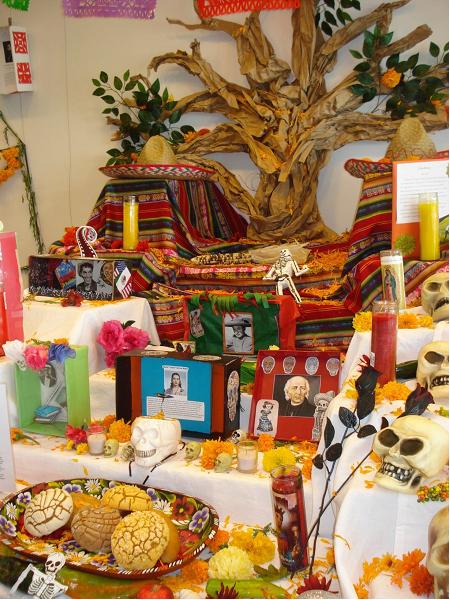 Join us for the annual Day of the Dead event, a collaboration between the Art History 333 class, Multicultural Programs, Art Program, Chicana/o Studies, and the Broome Library on Monday, Oct. 29.  Various activities will be held including adding items to the Day of the Dead altar to pay respect to loved ones. The altar will be in the Broome Library by the Children's section.  Please do not bring perishable items and provide photocopies not original photos.  Sand murals are a form of art that depict traditional Latino or religious symbols. You can help paint the Day of the Dead sand mural designed by distinguished Chicano artist Leo Limon. To sign up for a slot from 10 a.m. to 4 p.m. on Monday, Oct. 29, please complete the form at https://cidsa.wufoo.com/forms/day-of-the-dead-sand-mural-signup/.  Addiionally, an opening dedication celebration of "The Lights of Life" will be held at 6 p.m. at the Broome Library Plaza.

For more information contact Jennifer Chapman, Coordinator for Multicultural Programs at ext. 3243 orJennifer.chapman@csuci.edu. 

Graduate & Professional School Fair Week – Nov. 6-8
Career Development Services will host the 9th Annual Graduate & Professional School Fair week to be held Nov. 6-8.  To view an up-to-date list of participating graduate programs, visit: http://www.csuci.edu/careerdevelopment/news/.  Scheduled activities include:
Tuesday, Nov. 6 -- Graduate Student Panel Discussion -- 12 to 1:30 p.m. at the Student Union Stage
Wednesday, Nov. 7 -- Resume Clinic -- 12 to 1:30 p.m. in the Broome Library Plaza
Wednesday, Nov. 7 -- How to Prepare for the Fair Workshop -- 2 to 3 p.m. in the Career Development Center, Bell Tower 1548
Thursday, Nov. 8 -- Graduate & Professional School Fair -- 10 a.m. to 2 p.m. in the Broome Library Plaza
For more information, contact Amanda Carpenter, Coordinator for Career Development Services and the Henry L. "Hank" Lacayo Institute Internship Program, at ext. 3565 or amanda.carpenter@csuci.edu.

Oxfam Hunger Banquet- Nov. 8
The Center for Community Engagement Service Ambassadors are pleased to invite the campus community to the annual Oxfam Hunger Banquet on Thursday, Nov. 8 from 4 to 6 p.m. in Malibu Hall 100.
Oxfam is an international development and relief organization committed to creating lasting solutions to global poverty, hunger, and social injustice. This event is a dramatization/simulation of the inequitable distribution of food and resources in the world that reflects on the social injustices of poverty and hunger in our communities. This event will offer students and the community an opportunity to come together to explore and examine their own roles as informed, engaged and socially responsible citizens.
Please join us at this very important annual event and bring a canned food donation for Food Share, Ventura's local regional food bank.
For more information, contact Pilar Pacheco, Associate Director at ext. 8851 or pilar.pacheco@csuci.edu.

Self-Defense Class for Men- Nov. 9, 10 & 11
The CI Police Department is offering R.A.D. class for men Nov. 9, 10 and 11 for CI students, staff, and faculty from 4 to 8 p.m. in Malibu Hall.  Participants will have the opportunity to raise their awareness of aggressive behavior, recognize how aggressive behavior impacts their lives, learn steps to avoid aggressive behavior, consider how they can be part of reducing aggression and violence, and practice hands-on self-defense skills to resist and escape aggressive behavior directed toward them. The program is designed to empower participants to make safer choices when confronted with aggressive behavior.
This is a 12 hour class (4 hours each day) with a $20 registration fee due at sign-up. The fee will be fully refunded upon completion of all 12 hours in the program. Class size is limited, so register NOW at Police & Parking Services located in Placer Hall. The deadline to register for this class is Friday, Oct. 26 at 5 p.m.
For more information contact Corporal Dan Russ, Community Involvement Coordinator, at ext. 8444 or dan.russ@csuci.edu.

SCCUR – Nov. 17
The Southern California Conference for Undergraduate Research will be held at CI on Saturday, Nov. 17 and provides a forum for the presentation of the best research, scholarship, and creative activities of undergraduate students in the region, and encourages communication of innovative achievements across disciplines.
SCCUR is broadly multi-disciplinary, including the arts, humanities, social sciences, natural sciences, and applied sciences.  Students present their scholarly work either in 15-minute seminar presentations chaired by faculty moderators, in poster sessions, or in exhibition or performance.  Visit http://sccur.csuci.edu  for information and to register to attend!
For more information contact Merissa Stith, Events Coordinator, at ext. 8548 or Merissa.stith@csuci.edu.

© Wavelength October 18, 2012