Graduate & Undergraduate Degree Information Sessions - Sept. 6, 13, & 26
Information sessions will be offered this month by Extended University for master degrees in Business (MBA), Biotechnology, Mathematics, and Computer Science. Bachelor's degrees in Business, Psychology, and Early Childhood Studies, as well as the MBA, are offered through Extended University at the Santa Barbara City College Campus (SBCC).  The BS/BUS-to-MBA program at SBCC begins in fall 2013. September's information sessions are:
MS Mathematics, Sept. 6, 12 -1 p.m.
MS Computer Science, Sept. 6, 1 – 2 p.m.
MBA in Thousand Oaks, Sept. 13, 12 -1 p.m.
MS Biotechnology, Sept. 13, 1 - 2 p.m. 
All sessions will be held on the CI campus at the Graduate Studies Center (El Dorado Hall).  Register for a Graduate Degree Information Session at https://csuci.wufoo.com/forms/graduate-programs-information-sessions/. 
For additional information contact Alison Potter, Program Representative at 805-777-1042 or alison.potter@csuci.edu. 
Information Sessions for:
BA Early Childhood Studies and BA Psychology, will be held on Sept. 26, 5 – 6 p.m.
BS Business and BS/BUS-to-MBA, Sept. 26, 6 – 7 p.m.
All sessions will be held at CI's Goleta Campus, 5383 Hollister Ave, Ste 220, Goleta, CA. 
Register for an Undergraduate Information Session at https://csuci.wufoo.com/forms/undergraduate-degree-information-sessions/. 
For additional information contact Melissa Whitacre, Marketing Specialist, at 805-312-6367 or melissa.whitacre@csuci.edu. 

Constitution Day Celebration – Sept. 17
In celebration of Constitution Day and as a part of the "Congress to Campus" program, CI will host former Congressmen William Brodhead (D-Mich) and John Porter (R-IL) on Sept. 17 – 18. Over the course of two days, the former Congressmen will speak to eight classes in subjects ranging from political science to chemistry.
On Monday, Sept. 17 , from 6 - 7:30 p.m. in the Petit Salon a public forum will be held with the former Congressmen focusing on the broad issues of reform and bipartisanship, with a Q&A from the audience, and concluding statements from the panelists. 
The events are sponsored by Instructionally Related Activities fund, Political Science, the Center for Community Engagement, and the Division of Student Affairs.
For additional information contact Professor Sean Kelly at ext. 3309 or sean.kelly@csuci.edu or Professor Scott Frisch at ext. 2770 or scott.frisch@csuci.edu.

Are You Prepared for an Emergency? Get ready on Sept. 18
Police & Parking Services will host the Fifth Annual CI Emergency Preparedness Forum on Tuesday, Sept. 18 from 11 a.m. to 1 p.m. at the South Quad.  Emergency Preparedness professionals from CI's Police & Parking Services, Ventura County Office of Emergency Preparedness, Ventura County Fire, Ventura County Sheriff Office of Emergency Services, Ventura County Animal Regulation, American Red Cross. and more will be on hand with important information about how to prepare a family plan, emergency kit, and supplies – enough to last a minimum of three days for each person.
The Ready Campaign, sponsor of National Preparedness Month, promotes individual emergency preparedness and is designed to educate and empower Americans to take simple steps to prepare for emergencies in their homes, businesses, and communities. Free emergency preparedness information is available by visiting www.ready.gov, www.listo.gov or http://www.ready.gov/psa
For additional information contact Sgt. Jeff Cowgill at ext. 8444 or jeff.cowgill@csuci.edu. 

Unveiling of a Peace Pole - Sept. 21
CI will unveil a Peace Pole on Sept. 21 at 12 noon at the Central Mall displaying the message, "May Peace Prevail on Earth," in seven different languages.
The pole, an initiative of the Centers for Community and Multicultural Engagement, Interdisciplinary Studies and International Affairs, will symbolize the campus' collective support for and celebration of peace, social justice, and diversity and serve as a gathering place for events such as Take Back the Night rallies, Day of Silence, 9-11 remembrances, and other events. By planting a Peace Pole in our campus community, CI is showing solidarity with people all over the world who have planted their Peace Poles in the same spirit of peace.
For additional information contact Pilar Pacheco, Associate Director for the Center for Community Engagement, at ext. 8851 orpilar.pacheco@csuci.edu.

Alumni & Friends Dodger Day - Sept. 30
Make Some Noise celebrating our 10th anniversary at Dodger Stadium, Sunday, Sept. 30 with 500 CI Alumni & Friends Association members and community supporters in attendance.  Do the Wave for President Rush as he throws out the ceremonial first pitch.  Root Root Root for the Los Angeles Dodgers as they play against the Colorado Rockies. Ticket prices include bus transportation from the campus at 9 a.m.; game time is 1:10 p.m.
Click here to view the full flyer. (PDF, 2.92 MB)
For additional information contact Jonathan Neira, Administrative Assistant, at ext. 3764 or jonathan.neira746@csuci.edu.

Self-Defense Class for Women - Oct. 16, 17, 23 & 24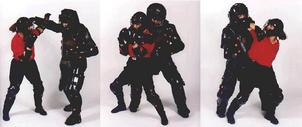 R.A.D. (Rape Aggression Defense) is the largest women's self-defense training program in the country, being taught by more than 350 universities and municipal law enforcement departments nationwide. The Rape Aggression Defense System is a program of realistic, self-defense tactics and techniques. The RAD system is a comprehensive course for women, which begins with awareness, prevention, risk reduction and avoidance, while progressing on to the basics of hands-on defense training.
The CI Police Department will be offering R.A.D. class throughout the year for CI students, staff, and faculty. The next class will be held at Malibu Hall on Oct. 16, 17, 23 & 24, from 6:30 to 9:30 p.m. This is a 12-hour class (3 hours each day) with a $20 registration fee due at sign-up and fully refunded upon completion of the program. Class size is limited, so register now at Police & Parking Services located in Placer Hall. A waiting list is also being established, so if you miss the next class, others will be offered in the near future.
For additional information  Officer Dan Russ at ext. 8444 ordan.russ@csuci.edu; or RAD@csuci.edu.

© Wavelength September 6, 2012