Let Ventura County Know We Are #1!
Let Ventura County know that CI is #1 by voting in the Ventura County Star Readers' Choice awards in the "College/University" category. The online voting will accept submissions Jan. 19 through Feb. 9. By voting you also have a chance to win $1,000, $750, or $250 in cash prizes from the Ventura County Star. Follow the link below to cast your vote now for CI:
http://cfapps.venturacountystar.com/readerschoice/.
For additional information contact Communication & Marketing at ext. 8415 or ci.news@csuci.edu.
Help Reduce CI's Carbon Footprint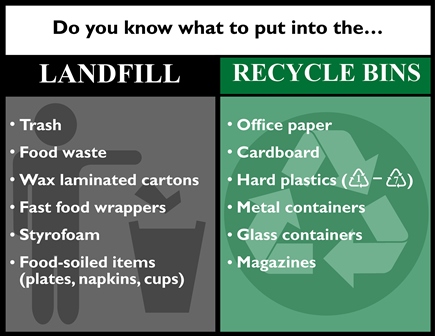 Recycling is a simple and cost effective way for CI to reduce the amount of waste it contributes to local landfills. Not only is it keeping plastic, glass, paper, and other reusable materials out of landfills, it helps reduce CI's carbon footprint.
You may have noticed the installation of new waste and recycling units around campus. These units are just the beginning efforts to educate students and faculty about recycling. These continuous education efforts have increased the waste diversion rate from 50% to 60% from 2009 to 2012. With the support of the campus community, Facilities Services will continue its efforts to increase recycling awareness and practices. Set by the Chancellors Office, our long-term goal of becoming a zero waste campus (100% waste diversion rate) by 2025 will need to be a community effort.
For more information, contact Scott Watterson at ext. 8461 or SustainableCI@csuci.edu.
Free VISTA Bus
Ride the VISTA bus for FREE for a chance to win a prize! From Jan. 21 through Feb. 1, Camarillo and Oxnard routes to CI will be free to the campus community. Ask the bus driver for a raffle ticket during these dates for a chance to win a prize. Raffle tickets can be submitted to CI's Transportation & Parking Services or at the Broome Library. For the VISTA bus schedule, visit www.goventura.org. View the full flyer and details.(PDF, 383KB)
For more information, contact Danny Haws, Transportation Lead, at ext. 8476 or danny.haws@csuci.edu.
To return to the Table of Contents.
© Wavelength January 16, 2014