CI Teams for 2014 Corporate Games- Event Sign-ups Feb. 3-4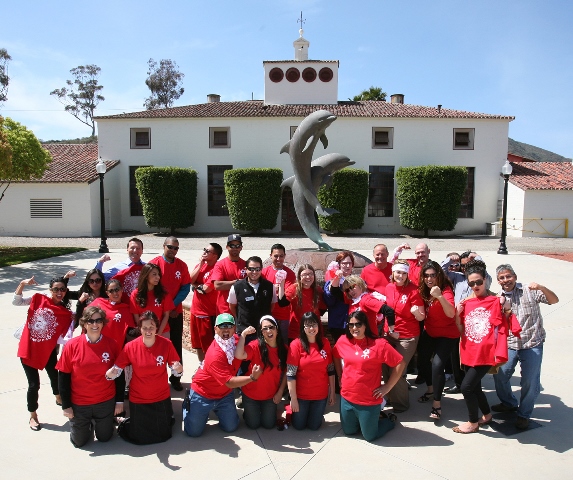 Last year, CI had more than 80 employees participate in 23 events over six weeks in the Ventura Corporate Games (CG). We're excited to call for participation again for event team captains and players.
On Monday Feb. 3 and Tuesday, Feb. 4, event sign-ups, submission of tee-shirt size and completion of waiver forms will be held from 10 a.m. to 1:30 p.m. at the Broome Library Plaza. CI employees wishing to participate must be 18 years of age and work a minimum of 20 hours per week (faculty and staff only; student employees are not eligible).
CI will participate in the AA Division in the following events - Basketball, Beach Volleyball, Billiards, Bocce Ball, Bowling, Coed Softball, Cornhole Tournament, Darts, Dodgeball, Dominoes/Spades, 5K Group Run, Flag Football, Golf, Horseshoes, Indoor Volleyball, Kickball, MB2 Kart Racing, Men's Softball, Miniature Golf, Paintball, Six-A-Side Soccer, Speed Scrabble (demo), Table Tennis, Team Tennis, Texas Hold'em, and Tug-O-War.
AA Division teams also participate in two Spirit Award events: T-shirt design contest, Run/Walk/Jog, Sand Sculpture contest, Community Service or Photo Contest. Other ways to participate include assisting with team coordination and cheering on CI participants.
To check out the full list of Sports & Event dates and locations to determine your availability, View flyer. (PDF, 201KB)
Actual times and match assignments will be released March 14 online. The Games run April 2 through May 10. Events are bracketed; teams may play multiple dates depend upon elimination rosters. Team captains will be chosen and in charge of organizing practices.
For more information, visit http://www.cityofventura.net/corporategames or contact Joanna Murphy, Associate Director of Communication & Marketing and CI Corporate Games Coordinator at joanna.murphy@csuci.edu.

Be a Blood Hero and Save a Life! – Feb. 4-5
CI Rotaract will be sponsoring a blood drive with United Blood Services Tuesday, Feb. 4 and Wednesday, Feb. 5 from 10 a.m. to 2 p.m. in the parking lot by the Town Center. Please stop by the bloodmobile and drop off a pint!
Appointments can be made online at www.blood4life.org with the sponsor code CSUCI.
For more information, contact CI Rotaract Co-Advisor Janet Pinkley at ext. 3217 or janet.pinkley@csuci.edu.

Third Annual CI Relay for Life- Mar. 14-15
Whether it is through a friend, colleague, family member, or our own personal experience, we all have been touched by cancer in some way. Join the hundreds of students, faculty and staff who will spend their weekend in the fight against cancer. Sign up now to be part of our third-annual CI Relay for Life!
It's easy: to register a new team, become a team member, register as a Survivor, purchase and decorate a luminaria bag, donate money or to volunteer to work at the event contact CI Relay for Life 2014 Event Chair Rachael Ellison rachael.ellison012@myci.csuci.edu. To sign up online, go to: www.RelayForLife.org/CSUchannelislandsca.
All CI students, faculty and staff are encouraged to be part of the 2014 CI Relay for Life beginning at 12:00 noon on Friday, Mar. 14 until 12:00 noon on Saturday, Mar. 15 in the South Quad.
For more information, contact Brittany Keegan at 805-628-2430, or Brittany.keegan@cancer.org.

Annual Conference for Social Justice in Education- Apr. 19
The School of Education proudly announces its 6th Annual Conference for Social Justice in Education on April 19. Registration begins at 8 a.m. in the Grand Salon. Dr. Gary Kinsey will welcome the participants and Provost Gayle Hutchinson will provide welcoming remarks. Keynote speaker will be Maria Elena Plaza, Director of Human Resources & Public Information Officer for the Oxnard School District
This year's theme is Cultivating Mentorship in Schools & Society. Break-out sessions will be in Del Norte Hall and promise to be thought provoking and examine an array of issues relevant to our county. The event is open to the CI community and the public and is free of charge. Please register in advance here. 

People devoted to promoting social justice are invited to submit a proposal for presentation. Proposals to present are due Monday, Feb. 24. To download the presentation proposal form, visit http://education.csuci.edu/justice-conference/proposal-info.htm.
The conference is co-sponsored by CI's Schools of Education and Arts & Sciences, Martin V. Smith School of Business & Economics, Extended University, the Center for Community Engagement, Project Vista, the Provost's Office, and the Office of the President.
For more information, contact Marilyn Medina, Graduate Studies Center Administrative Support Assistant, at ext. 3579 or Marilyn.medina@csuci.edu.
Return to the Table of Contents.
© Wavelength January 30, 2014