Applying to Graduate School Workshop - Oct. 9
Hosted by the Graduate Studies Center, the 'Applying to Graduate School' workshop will give students the resources and information they need for graduate school. Students will learn when and how to start looking at graduate schools. The workshop will also review the typical requirements for graduate schools and how students can fulfill them.
This workshop is scheduled to take place on Thursday, Oct. 9 from 5 to 6 p.m. in El Dorado Hall. Students interested in attending can RSVP by calling the Graduate Studies Center at 805-437-3579; walk-ins are also welcome!
For more information, contact Marilyn Medina, GSC Administrative Support Assistant, at ext. 3579 or Marilyn.medina@csuci.edu.
CI Family Weekend – Oct. 10-12
Family Weekend has been a CI tradition since 2002. Sponsored by the Division of Student Affairs, Family Weekend aims to enhance students' educational experience, reconnect families, and further develop a relationship based on shared values with all members of the CI family. Family Weekend is designed to support the University mission and the purpose, aims, and values of the Division of Student Affairs. 

New Student, Orientation and Transition Programs (NSOTP) is intentionally programming activities that followthe University mission and the college journey with this year's theme as "Oh the places you'll go… at CI." Families will have the opportunity to participate in Dr. Seuss-themed games and activities and document their weekend via Instagram with the hashtag: #ItsACIThing.
To RSVP, click here.  Click here for full event details. (PDF)
For more information, contact Kirsten Moss, Director of Multi Access Programs, at ext. 3156 or Kirsten.moss@csuci.edu.
Study Abroad Session – Oct. 15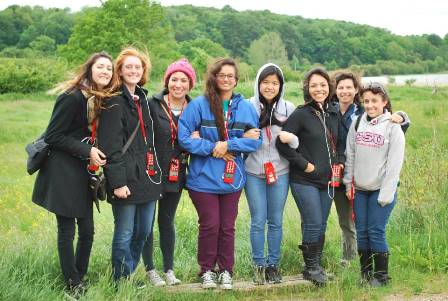 Students interested in the Study Abroad program are invited to attend a review of the UNIV 392 course that took place in summer 2014.  Students who participated in the course, The Sea Coast through Time, will speak about their experiences. The session will take place on Wednesday, Oct. 15 from 6 to 7:30 p.m. in Broome Library, Room 1320.

Participants of the course spent 10 days in Germany learning how humans interact with the coastal and marine environment. Students and faculty visited museums, archaeological sites, and harbors in order to understand coastal living, and learn to appreciate how changes in fishing and transportation technology over the last 1,200 years greatly affect human societies.

CI students are especially encouraged to come learn about the IRA funded UNIV 392 international study courses.
For more information, contact Colleen Delaney, Associate Professor of Anthropology, at ext. 3312 or colleen.delaney@csuci.edu.
Informational Meetings: Sally Casanova Scholars Pre-Doctoral Program and the CSU Chancellor's Doctoral Incentive Program – Oct. 15 & 16
Informational meetings for the Sally Casanova Scholars Pre-Doctoral Program and the CSU Chancellor's Doctoral Incentive Program (CDIP) will be held on Wednesday, Oct. 15, Noon to 1:30 p.m. in Madera Hall, Room 2381 and on Thursday, Oct. 16, 6 to 7:30 p.m. in El Dorado Hall, Room 140.
Lunch will be provided on Wednesday and dinner will be provided on Thursday; an RSVP is not required. The following provides a brief overview of each opportunity:
Sally Casanova Pre-Doctoral ScholarsProgram: http://www.csuci.edu/app/predoctoralprogram.htm 
CSU Chancellor's Doctoral Incentive Program (CDIP): http://www.csuci.edu/app/cdip.htm
For more information, contact Gary Kinsey, AVP & Director, School of Education, at ext. 2002 or gary.kinsey@csuci.edu.
Campus Reading Celebration- Oct. 16
CI will welcome award-winning writer Luis Urrea for the tenth-annual Campus Reading Celebration, Thursday, Oct. 16, at 6:30 p.m. in the Grand Salon.

The Campus Reading Celebration is an annual event that unites the campus, community and notable authors in a shared intellectual experience. This year, students nominated and selected "By the Lake of Sleeping Children: The Secret Life of the Mexican Border," by Luis Urrea for our campus read. Fitting CI's dedication to an interdisciplinary curriculum, the work touches on topics and issues studied in Environmental Science, Political Science, English, Biology, Sociology, Psychology, History, Communication, Spanish, Economics, Business, Global Studies, and Chicano/a Studies.

The event will include Urrea's presentation, a Q&A session with the audience, a book signing, and a light reception. Registration is required online. Admission is free for CI students, faculty and staff; $5 for all other students; and $10 for the public. Copies of Urrea's book will be available for sale and signing at the event and in advance at the Cove Bookstore.

For more information, visit the Campus Reading Celebration website or contact Merissa Stith, Assistant Manager of Conferences & Events at ext. 8548 or merissa.stith@csuci.edu.
MVS Speaker Series - Oct. 17 & Nov. 21
The Fall 2014 MVS Speaker Series continues with two prominent executives who will present on issues they have faced in their respective industries.
On Friday, Oct. 17, Marty Albertson will discuss his career as Chairman of the Board and CEO of Guitar Center, Inc. Albertson started his career at Guitar Center as a salesman and took on positions of increasing responsibility as he worked his way up. Now retired, he still remains non-executive Chairman of the Board. On Friday, Nov. 21, Kelsey Timmerman will present on the realities of the global food industry and will discuss his latest book, Where Am I Eating? (2013).
Each session will be held from 12 to 2 p.m. in Malibu Hall 100. Please RSVP for MVS Speaker Series - Oct. 17 & Nov. 21.
For more information, contact Jennifer Iden, Business & Economics Coordinator, at ext. 3979 or Jennifer.iden@csuci.edu.
President's Dinner – Oct. 18
Join us for the grooviest gala of the season as you dance and sing along to the classic tunes of The Beatles. The 1960's- themed gala will be held on Saturday, Oct. 18 at the Hyatt Westlake Plaza. Enjoy fine food, live music, dancing, entertainment, fabulous live and silent auctions, and much more! With a little help from our friends, we can bring students' dreams to degrees. Proceeds will support the University's highest priority needs. 

The 2014 Robert J. Lagomarsino award will be presented to George Leis.  Leis is the national sales manager for Union Bank's Private Bank and has chaired CI's Foundation Board since 2012. His leadership has been a positive impact on our campus by strengthening CI's mission and goals. 

CI faculty and staff receive a discounted ticket of $150 per person (discounted from $250). Faculty or staff members are eligible to purchase two tickets at this special rate. Payroll deduction can be utilized to make this purchase even easier. Visit https://csuci.wufoo.com/forms/stafffaculty-the-presidents-dinner/ to purchase your tickets online. 

For information on the gala, visit CI's Impact website. Full details on the event. (PDF)
For more information contact Noheli Viramontes, Advancement Events Assistant, at ext. 3552 or Noheli.viramontes@csuci.edu. 

NAFTA Conference- Oct. 24
You are invited to attend the NAFTA Conference on Friday, Oct. 24 from 9 a.m. to 4 p.m. in Broome Library, Room 1320. 
NAFTA, the North American Free Trade Agreement, was enacted twenty years ago in 1994. Advocates of NAFTA argued that this free trade bill would enrich the three nations involved: Canada, the U.S., and Mexico. Proponents argued that lifting government regulations and modifying existing labor and environmental laws would benefit all parties to the treaty.
Proponents also argued that NAFTA would deter undocumented immigration. Yet from the beginning there has been wide opposition to the treaty. In Chiapas, the Ejercito Zapatista Liberacion Nacional violently opposed the treaty and engaged in battle with the Mexican army. Peasant and labor organizations as well as journalists and academics have criticized aspects of the treaty, from the growth of maquiladoras to its environmental and labor provisions. NAFTA has also been the catalyst for the massive increase in undocumented immigration for the past two decades.
To RSVP, click here.  For full event details, view the flyer. (PDF)
For more information, contact Jose Alamillo, Professor of Chicana/o Studies, at ext. 2685 or jose.alamillo@csuci.edu.
Graduate Studies Center and Broome Library Presents Saturday Series Workshops – Oct. 25
The Graduate Studies Center (GSC) and the Broome Library are hosting two workshops on Saturday, Oct. 25 from 10 a.m. to 2 p.m. in El Dorado Hall.  Lunch will be provided to students who RSVP, and children (5+) are welcome when accompanied by an adult.  RSVP for Graduate Studies Center and Broome Library Presents Saturday Series Workshops.
Session Details:
Introduction to the Thesis - Led by Cynthia King
After progressing through your program's series of classes and working with a group of students and faculty in your studies of particular topics, many students find the solitary work of thesis research and writing to be extra challenging. There are many questions that arise, which we will explore in this workshop. Bring your notes and/or writing samples from your thesis/project, and we will help you take the next steps.

Broome Library and You: From Literature Review to Resources - Broome Library Can Help You Succeed- Led by Janet Pinkley and Kaela Casey
Post-baccalaureate students are often required to conduct a literature review as part of a research assignment or as part of their thesis. Learn more about the purpose of a literature review, as well as how to get started and how to utilize the library to conduct a thorough search to locate literature on your topic. 
For more information, contact Wendy Olson, GSC Activity Director, at ext. 3594 or gscwritingstudio@csuci.edu.
CI Announces 6th Annual "Day of the Dead: Celebration of Life" – Oct. 27
CI Intercultural Services, the John Spoor Broome Library, and students from the Art program invite the campus and community to attend the Celebration of Life reception on Monday, Oct. 27 at 5 p.m. at the Broome Library.
Guests may view the exhibitions located throughout the library and sand mural installation located at the Broome Library Plaza until Nov. 9. The Celebration of Life begins at 5 p.m. with distinguished community speakers including the Honorable Berenice Diaz Ceballos, Consul de Mexico, Arcenio J. Lopez, Executive Director of Mixteco/Indigena Community Organizing Project, and CI campus administrators and faculty. Activities will also be provided by the School of Education/Credential Office. The evening will close with CI's own mariachi and performance by CI's Ballet Folklórico. A Mixtec translator will be at the program. 
For more information, contact Elizabeth Salgado, Lead Student Assistant for Intercultural Services, at ext. 8407 or Elizabeth.salgado749@csuci.edu. 

Mind, Body, Health Workshop: Yoga – Oct. 28
Please join us for a free Yoga session on the North Quad lawn on Tuesday, Oct. 28, Noon to 2p.m.

Kumudini, founder of the Veda Yoga Center and a practicing yogini for the past 15 years will be conducting this exclusive workshop. This event is open to all faculty, staff, students and community members. The workshop will include a talk about the advantages of yoga as well as a broad array of hatha yoga exercises, emphasizing "one breath, one movement." Do not miss this wonderful opportunity to unravel the secrets of the mind and the body.

Please bring your yoga mats and dress in comfortable clothing. Register for this event here.
For more information, contact Motoko Kitazumi, Centers Coordinator, at ext. 2608 or Motoko.kitazumi@csuci.edu.
6th Annual Science Carnival- Nov. 1
K-8 students and their families are invited to attend the 6th-annual Science Carnival, 5 to 8 p.m. on Saturday, Nov. 1 at Thurgood Marshall Elementary School in Oxnard.
The Science Carnival is a spooky science/Halloween-themed event that is designed to give kids a hands-on experience with science, technology, engineering, and mathematics. Over 75 science activities and demonstrations are available to experiment with. Kids are encouraged to wear their costumes! The event and parking are free. Additional details are available on the Science Carnival website. 
Volunteers from the CI community are welcomed. Click here if you are interested in volunteering.
For more information, contact Phil Hampton, Professor of Chemistry, at ext. 8869 orPhilip.hampton@csuci.edu; or Tracy Tumbale, Assistant STEM Outreach Coordinator, at ext. 3597 or tracytumbale255@csuci.edu.
Return to the Table of Contents
© Wavelength October 9, 2014