Let Ventura County Know We Are #1!
Let Ventura County know that CI is #1 by voting in the Ventura County Star Readers' Choice awards in the "College/University West County" category. Online voting is available through March 22. Follow the link below to cast your vote for CI:
http://ventura.secondstreetapp.com/l/Readers-Choice-2015/
For additional information, contact Communication & Marketing at ext. 8415 or ci.news@csuci.edu.
Summer Travel Courses
Providing international experiences for CI students is one of the pillars of the University mission. This upcoming summer CI will offer five, faculty-led courses in different parts of the world.
Courses will be taught during the upcoming summer term through Extended University & International Programs, which in addition to the specified international travel fee, an additional tuition fee is also required: $426 for 1 unit courses, $756 for 2 unit courses, and $1086 for 3 unit courses. The international travel fee includes flight, lodging, insurance, and some activities. With financial support from Instructionally Related Activities, students only pay a portion of the actual cost of the travel course.
Click here to view a list of upcoming summer travel courses.
For additional information, contact Melissa Olague, Centers Coordinator at melissa.olague@csuci.edu.
2015 Yearbook Now Available for Pre-Order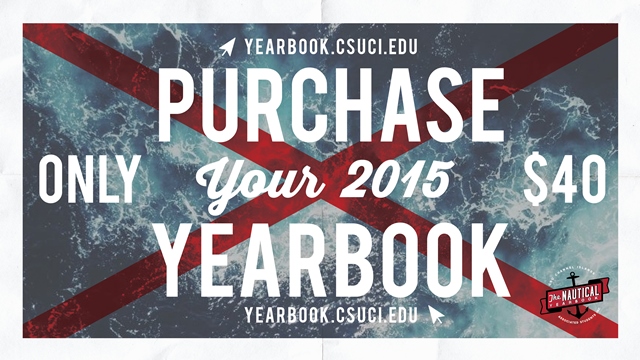 The Nautical 2015 yearbook is now available for pre-order online at http://yearbook.csuci.edu/. Yearbooks are estimated to arrive after Commencement and can be picked up at the Student Union Information Desk or shipped for an additional $6. Purchasers will be notified via email when the books arrive. Limited quantities are available.
For additional information, contact Morgan Franklin, The Nautical Editor-In-Chief, at ext. 3121 or nautical@csuci.edu. 
Return to the Table of Contents
© Wavelength February 26, 2015