Student Ratings of Teaching
Student Ratings of Teaching (SRT) for fall 2015 will be available Monday, Nov. 23 through Saturday, Dec. 5. Students can access the online SRT via the myCI login page: https://myci.csuci.edu and complete course evaluations anonymously. 

For additional information regarding the SRT process, visit go.csuci.edu/srt or contact Nitzia Castaniero, Academic Personnel Analyst, at ext. 8543 or Nitzia.castaniero@csuci.edu.
We CAN make a difference – Through Nov. 27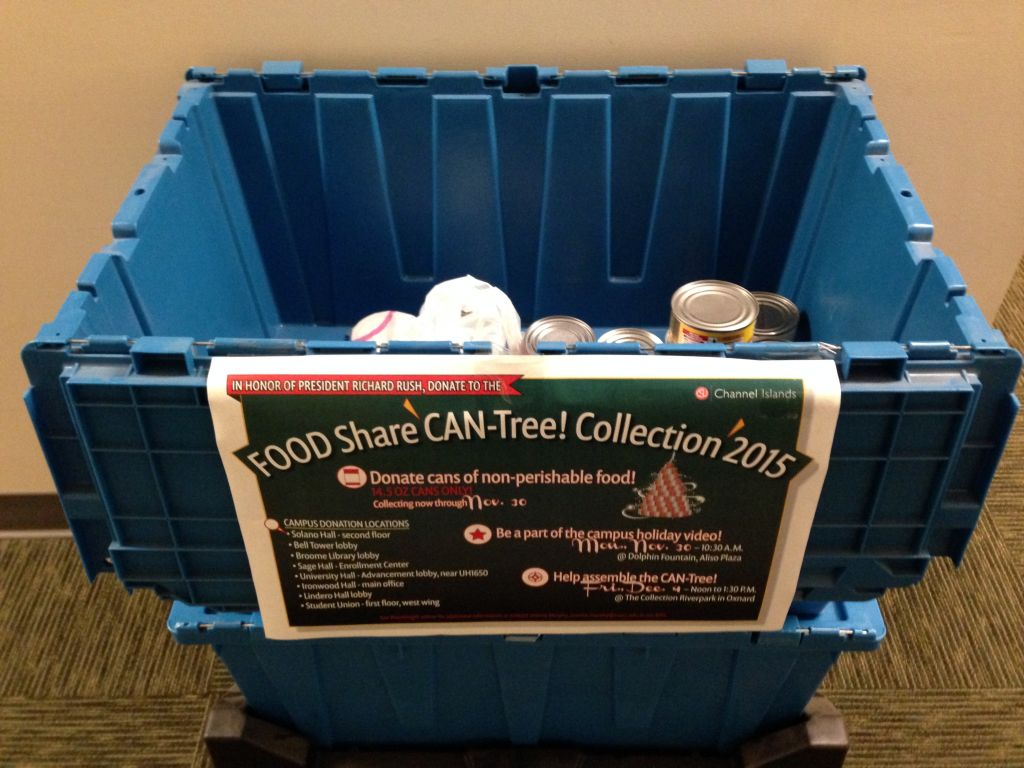 In honor of the retirement of President Rush, CI is coordinating the collection of 14.5-ounce, non-perishable cans of food to make a "CI CAN-Tree" for FOOD Share's CAN-Tree Collection 2015.
1 in 10 people in Ventura County is food insecure. Food insecurity across American households' means there is a lack of access, at times, to enough food for an active, healthy life for all household members. With your donation, we can make a difference.
The entire campus community is invited to donate cans through Nov. 27 – we need at least 600 cans to make a great tree! Thank you in advance for your support. 
Full details and bin locations on campus are available here. (PDF, 294KB)
For additional information contact Joanna Murphy, Associate Director of Communication & Marketing at ext. 8915 or joanna.murphy@csuci.edu.
Teamwork Wins! 2016 Corporate Games updates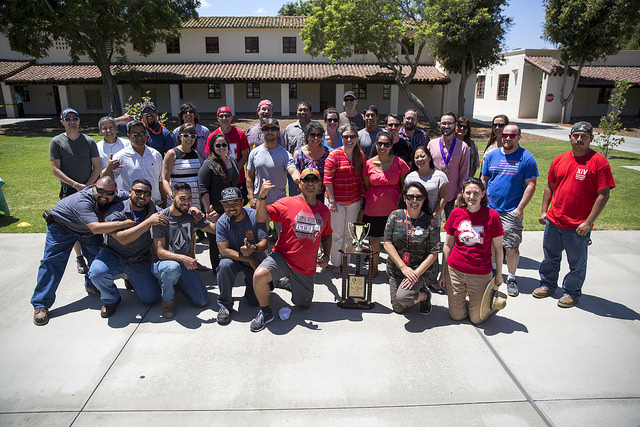 CI is now a bronze sponsor and joins a growing list of Ventura County companies participating in the 2016 City of Ventura Corporate Games. CI received the 2015 JD Probasco Spirit Award and it's time for that pride to shine again.
We need volunteers to be:
CI CG co-coordinators and/or event captains
Co-coordinators attend a City meeting with the coordinator and assist with weekly event scheduling; (PDF, 343KB)
Event captains recruit players and organize practices and teams in the months leading up to the Games (PDF, 45.1KB)
A Community Service event coordinator - organizes a CI CG Team for a community service day; (PDF, 4.71MB)
The designer of this year's tee-shirt artwork – deadline for judging Feb. 5 (PDF, 723KB)
Spirit coordinators – organize people to attend events and cheer players on.
Save-these-dates:
CI CG Sign-ups - dates for mid-January signs ups will be announced in the next Wavelength - sign up for event teams and all volunteer opportunities.
The Games will hold Opening Ceremonies (PDF, 2.91MB) on March 19 at Ventura Community Park, running various dates through May 7 with Closing Ceremonies (PDF, 1.92MB) at Harbor Cove Beach in Ventura.
Corporate Games information and tentative schedules. Spot the CI CG players in the program guide!
For additional CI CG information and to volunteer, contact Joanna Murphy, CI Corporate Games team coordinator at ext. 8915 or joanna.murphy@csuci.edu.
Return to the Table of Contents
© Wavelength November 19, 2015