Submit stories to Voices of CI!
The Center for Community Engagement (CCE) is looking for groups and individuals who have participated in various types of community service to share their experience through our Voices of CI campaign. The campaign's purpose is to spotlight and bring awareness to the existing culture of service on our campus. To see examples of our Voices of CI features, visit and "Like" our Facebook page at https://www.facebook.com/CCE4CI. 

If you are interested in being featured, please fill out the Voices of CI form and submit a picture of yourself by email to neil.olipani248@csuci.edu with the subject as VOC PICTURE SUBMISSION. Everyone who completes this form will also receive a CI Serve It Up T-Shirt!
For additional information contact Neil Olipani, Community Engagement Ambassador, at 805-437-3619 or neil.olipani248@csuci.edu.
Professional Development Workshops
Join us at our April workshops, open to all CI faculty and staff.

Tuesday, April 12, 9 -10:30 a.m., Sage Hall, Room 2030:  HR Benefits: Social Security and Retirement
Information will be provided on when to claim benefits, and where Social Security fits in an employee's overall retirement income plan.

Thursday, April 14, 9-11 a.m., El Dorado Hall, Room 140:Director of IT Strategy: Introduction to Project Management Recognize how to define "project" and "project management."

Tuesday, April 19, 9-10 a.m., Ojai Hall, Room 1952: Professional Development Specialist: How to Use Skillport Information regarding how to create your own personal course plan and how to look up specific courses.

Thursday, April 28, 9-10:30 a.m., Sierra Hall, Room 1411:Dr. Melissa Soenke: Managing Workplace Stress
Discuss and define stress, introduction of the physiological stress response and health outcomes of stress.

SPRING MONTHLY SERIES
*Lunch and Learn Series: Supervising Student Employees: Building a Foundation
April 19, Noon to 1 p.m., Sage Hall, Room 2030. *RSVP Required.

WEEKLY STAFF WELLNESS 
Yoga Fridays: El Dorado Hall, 7:15 - 8:20 a.m. Bring a yoga mat and water. 
STAFF ZUMBA: CI Rec Center GYM, 5:15-6:15 p.m., Tuesdays and Thursdays.

Click here to RSVP and learn more. 

For more information contact Wendy Olson, Professional Development Specialist, 805-437-8553 or wendy.olson@csuci.edu.
CIBC Summer Youth Watersports Camp Registration
This year marks the tenth anniversary the Channel Islands Boating Center is running their summer youth watersports camp for ages 8-16. The camp is revealing their new two-week class structure for sailing and stand up paddle board/windsurfing classes. The kayaking course remains at one week sessions.
The camp operates for six weeks throughout the summer and is led by CI's trained and certified student assistants. Each week the campers will take a break from their instructional water activities and engage in various educational components at the Maritime Museum and Oxnard Marine Center.
Family and friends are encouraged to join their camper on Friday for lunch time activities and an hour of sailing and kayaking around the harbor. The camp is excited to offer a number of need based, full ride scholarships for a number of campers this summer. All skill levels are welcome! 

Visit the website to find more information about the scholarship and camp registration.
For additional information contact Jennifer Maravola, CI Boating Center Operations Analyst, at 805-437-3710 or Jennifer.maravola@csuci.edu.
CI Staff Council Members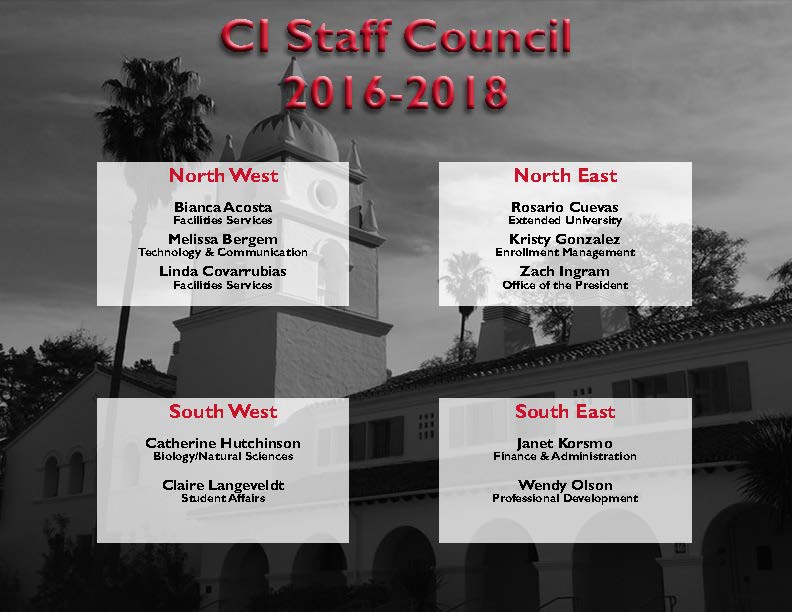 Congratulations to the following newly elected CI Staff Council members chosen by their colleagues to represent the four quadrants on campus.   Staff Council members will sponsor programs, services, and events with the charge to promote positive communication and a sense of community in the workplace.  
For additional information contact Laurie Nichols, HR Director, at 805-437-8423 or laurie.nichols@csuci.edu.
CI Corporate Games – Teamwork Wins!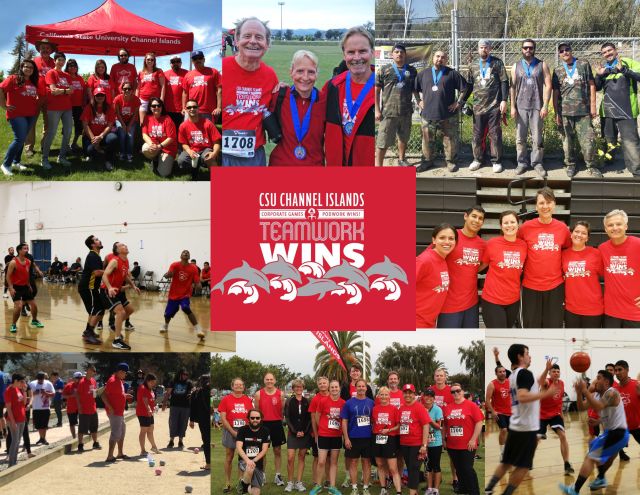 Now with more than 100 participants, the CI Corporate Games team continues competition with , Billiards, Table Tennis,  Lazertag, Coed Softball and MB2 Kart racing. The following week's events include Men's Softball, Kickball, Horseshoes, Soccer, Beach Volleyball,  and Team Tennis.
Congratulations to Paintball A team for capturing bronze in a sudden-death shoot-out and 5K runners for placing/medaling – Caroline Doll-bronze, Bill Kupfer-silver and Tom Schmidhauser-4th place.
The Games are organized by the City of Ventura and have more 77 companies in the tri-counties participating. Events continue through April, with closing ceremonies on May 7 at Harbor Cove Beach with Sandcastle building, Corn Hole toss and Tug O War events as well as the awarding of Team Unity and Overall Team trophies.
For additional information information, contact Joanna Murphy, Associate Director of Communication & Marketing and CI Corporate Games Coordinator, at 805-437-8915 or joanna.murphy@csuci.edu. 
Return to the Table of Contents
© Wavelength April 7, 2016