Join CIPD for Coffee & Donuts – Oct. 27
Join the CI Police Department for a cup of coffee and a free Krispy Kreme donut on Thursday, Oct. 27, 9:30-11 a.m. at the Student Union Tree House Courtyard.  The campus community is invited to meet with officers, ask questions, and get involved. 
View the flyer for full details. (PDF, 440KB)
For more information contact Rachel Huff, Community Involvement & Crime Prevention Coordinator, at 805-437-8444 or Rachel.huff@csuci.edu.
Thriller Dancing – Oct. 31
The campus community is invited to learn the iconic Michael Jackson choreography to "Thriller" on Monday, Oct. 31 from 2-4 p.m. in Malibu 120. Attendees may stop by anytime between 2-4 p.m.  
View the flyer for full details.  (PDF, 310KB)
For more information contact Heather Castillo, Assistant Professor, Performing Arts, at 805-437-8969 at heather.castillo@csuci.edu.
Day of the Dead & Celebration of Life – Nov. 1
Intercultural Services, the Art program, Student Clubs and Organizations, faculty, and staff invite you to CI's eighth-annual Dia de los Muertos: Celebration of Life event, which highlights the importance of celebrating the dead after they have passed. 
The event will be held Tuesday, Nov. 1 at John Spoor Broome Library Plaza, 4-6 p.m. with free face painting and many arts and crafts activities available for the attendees. A sand mural designed by Sergio Hernandez, a Chicano artist and cartoonist for Con Safos, the first literary Chicano magazine in the country, will be featured. Students are also welcome to create the sand mural with him from 9 a.m. to 4 p.m.
Altars and the sand mural will be displayed Nov. 1 -Nov. 10 inside the Broome Library.
For more information contact Motoko Kitazumi, Intercultural Services Coordinator, at 805-437-3243 or Motoko.kitazumi@csuci.ed.
Science Carnival – Nov. 5
Pre-K through 8th grade students and their families are invited to attend the annual Science Carnival, on Saturday, Nov. 5 from 5 to 8 p.m. at Thurgood Marshall School in Oxnard.

The Science Carnival is a spooky science/Halloween-themed event that is designed to give kids a hands-on experience with science, technology, engineering, and mathematics. Over 80 science activities and demonstrations are available to experiment with. Kids are encouraged to wear their costumes; the event and parking are free. Additional details are available on the Science Carnival Website.

A new component of the Science Carnival has been added which is the STEM Experiences for Educators and Leaders (SEEL) from 2:30-4 p.m. that afternoon. SEEL provides PK-8 grade educators and leaders as well as afterschool educators and leaders with hands-on experience with Science Carnival activities that they can take back to their educational settings. Please consider encouraging interested educators/ leaders to register online. 

Volunteers from the CI community are welcomed. Register as a volunteer at www.csuci.edu/sciencecarnival/volunteer. 

For more information contact Phil Hampton, Professor of Chemistry at 805-437-8869 or philip.hampton@csuci.edu; or Sandra Birmingham, Associate Director for STEM Educational Outreach at 805-437-3597 or sandra.birmingham@csuci.edu.
Food for Fines Food Drive – Nov. 6-19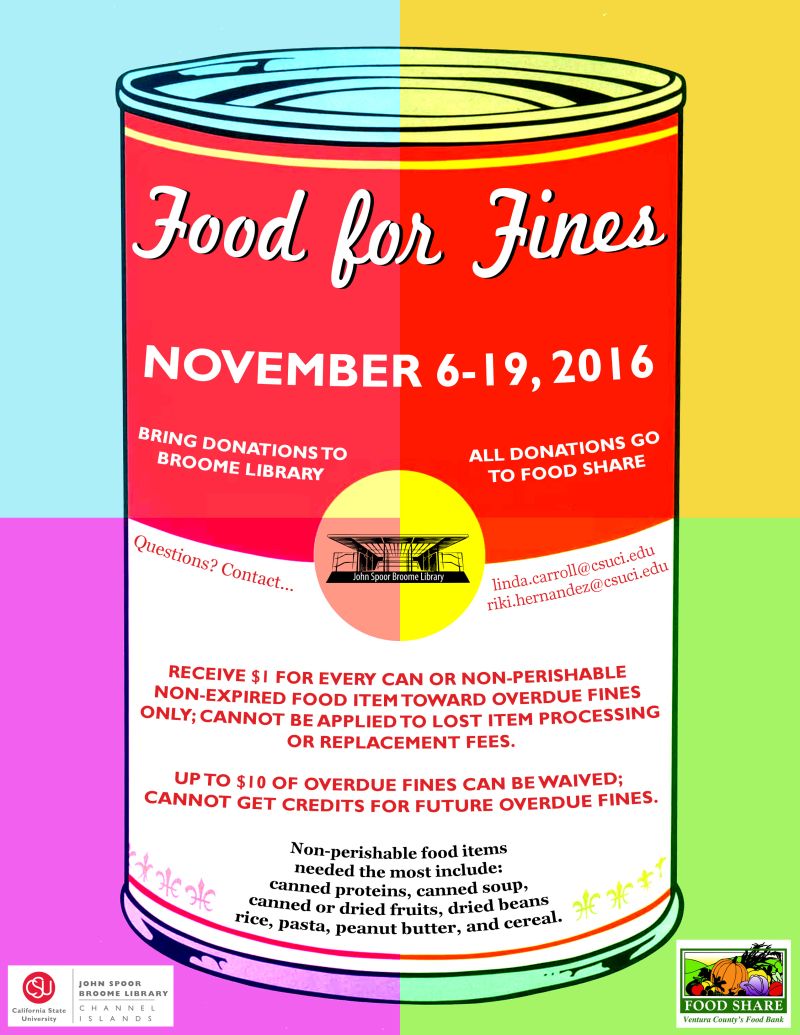 The John Spoor Broome Library will be hosting its semi-annual Food for Fines Food Drive from Nov. 6-19. Help support FOOD Share, Ventura County's Food Bank, by donating non-perishable food items. Bring in a donation and receive $1 for every can or non-perishable, non-expired food item toward overdue fines up to $10. You're welcome to bring food donations even if you don't have fines. Collection bins will be located in the Broome Library lobby. 

Food items needed most include:
Canned proteins (e.g. tuna, chicken)
Canned soup
Canned or dried fruits
Canned vegetables
Dried beans, rice, and pasta
Canned spaghetti sauce
Peanut butter
Cereal
For more information contact Riki Hernandez, Library Services Specialist II, Circulation and Stacks, at 805-437-3379 or riki.hernandez@csuci.edu.
Girls Rising – Nov. 15
Join us Tuesday, Nov. 15, 5:30 to 9 p.m. in Malibu Hall, Room 100 for a free special screening of Girl Rising, a documentary film about the transformative power of education in the lives of girls around the world. The film will screen from 6 to 8 p.m.
From Academy Award-nominated director Richard E. Robbins, Girl Rising follows nine unforgettable girls living in the developing world who confront tremendous challenges and overcome nearly impossible odds to pursue their dreams. #WeAreGirlRising shows the world that Girl Rising is an all-inclusive movement.
After the film, stay for a Q&A with a Peace Corps recruiter to learn more about the Peace Corps' Let Girls Learn initiative and what it takes to become a volunteer. 
For more information contact Frances Klingenberger, Peace Corps Student Ambassador, at 805-437-2608 or frances.klingenberger749@csuci.edu.
Return to the Table of Contents
© Wavelength October 20, 2016