Baker 2 Vegas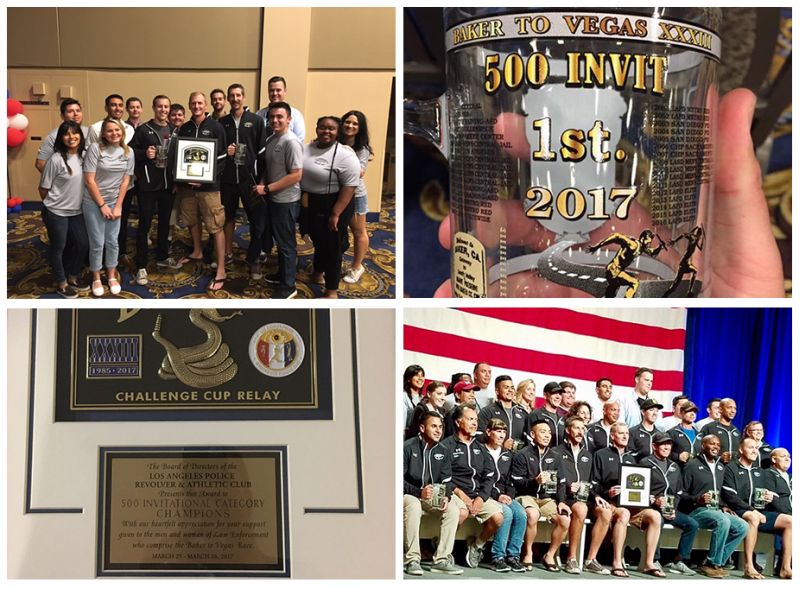 The CSU Police Running Team earned another first place finish in their Division (500 Invitational) at the annual Baker to Vegas weekend, held March 25-26.  Led by CI's Officer Arnie Camp, the team  comprised of runners from 17 of the 23 CSU campuses  achieved their first back-to-back victory in addition to running their fastest team time to date.  Congratulations!
Dolphin Pantry?

L to R: Olivia Guzman, Sally Fernandez, Alexis Marquez, Diana Lopez and Edrian Ferrer
Volunteers from CI's Dolphin Pantry recently met to share their experiences in supporting a social service that has already had a positive impact on the campus community. The pantry is a resource for those in need of food or personal care items.
For more information contact Jeannette Edwards, Centers Coordinator, at 805-437-2608 or Jeannette.edwards@csuci.edu.
CI Corporate Games (CI CG) Team Starts Strong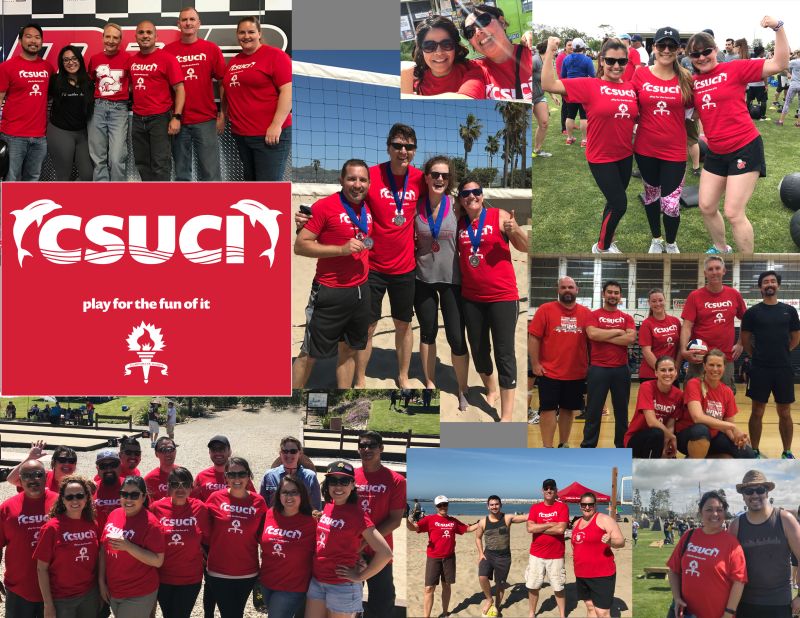 It's been a great start for the CI team, participating for the fifth year in the City of Ventura Corporate Games. 114 university staff, faculty and students have signed up in 23 events through May 6.
For the first-time, CI won silver medals in beach volleyball – congratulations to Matt Hughes, Peter Mosinskis, Lisa Racine and Kari Moss. MB2 Kart Racing team placed fourth in their event and a Cross Fit Challenge team entered for the first time.
Upcoming events include indoor volleyball (medal round), basketball, table tennis, 8-ball billiards, 5K run, and darts. After a holiday break, play continues in golf, kickball, horseshoes, miniature golf, coed- and men's softball, team tennis, 9-ball billiards, flag football, bowling, paintball, lazertag and table games (speed Scrabble, Dominoes, Spades and Texas hold'em).
Companies can participate in a number of projects throughout the year that qualify for the community service activity for the JD Probasco Spirit Award, which CI received in 2015. This year, CI's Community Volunteer affinity group in Staff Council participated in the Harbor Wetlands Restoration project in December.
Event schedules - Team Sideline; Closing Ceremonies at Harbor Cove Beach.
For additional CI CG information, contact Joanna Murphy, CI CG coordinator at ext. 8915 or joanna.murphy@csuci.edu. 
Return to the Table of Contents
© Wavelength April 6, 2017