Let Ventura County Know We Are #1!
Let Ventura County know that CI is #1 by voting in the Ventura County Star Readers' Choice awards in the "College/University West County" category. Online voting begins Feb. 3 and is available through March 20. Follow the link below to cast your vote for CI:
For more information, contact Communication & Marketing at ext. 8415 or ci.news@csuci.edu.
CI Corporate Games (CG) team registration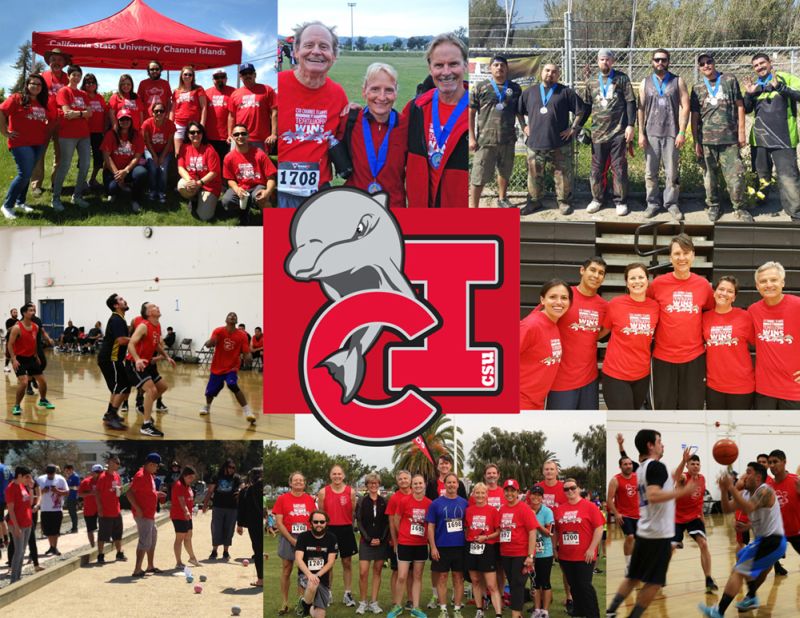 CI continues to recruit employees* to participate in more than 30 events organized by the City of Ventura as the Corporate Games, March 25 through May 6, 2017.
Registration for CI CG team will close on Wed., Feb. 8. Additions to rosters will occur as needed during the Games. Please email Joanna.murphy@csuci.edu for waivers and online registration information. Once registered, team emails will be sent mid-February.
Participants CAN:
Start talking to your colleagues about participating, planning team practices or competing in team qualifiers**.
Be Creative: Sign up for Tee-Shirt Design and/or Photography contest.
Save-the-dates: Final event schedules and brackets will post on Team Sideline by Mar. 10.
Plan to attend: Opening Ceremonies on March 25 at Ventura Community Park (PDF, 1.3MB);  Closing Ceremonies on Saturday, May 6 at Harbor Cove Beach in Ventura (PDF, 1.5MB).
Corporate Games information (PDF 9.6MB) and tentative schedules (PDF 936KB).
*Employees must be 18 years of age and work a minimum of 20 hours per week. Participants must carry approved proof of employment at all events. **Events to be determined.
For additional CI CG information and to volunteer, contact Joanna Murphy, CI Corporate Games team coordinator at ext. 8915 or joanna.murphy@csuci.edu.
Writing Style Guide
A revised version of the Writing Style Guide is available online and includes updates such as reintroduction of CSUCI as an approved abbreviated reference as well as other helpful writing tips.
For more information, Nancy Gill, Director of Communication & Marketing at ext. 8456 or nancy.gill@csuci.edu
Microsoft Campus Advantage – Office 365 Pro Plus
CI has begun providing Microsoft Office 365 Pro Plus for all faculty, staff and students at no cost via the Microsoft Campus Advantage program. This agreement between CI and Microsoft allows us to provide current faculty, staff and students with the latest full version of Office on their home computers. Included is a 1TB OneDrive for personal file storage needs. Please note that it is not appropriate to store university data in OneDrive. As a member of the CI community, you can register yourself via the Office365 Portal provided by Microsoft. Just follow the instructions on the page to get your free Microsoft Office Pro Plus Software: http://products.office.com/en-us/student/office-in-education?tab=teachers.
If you have additional questions, many answers can be found at our FAQ page: http://www.csuci.edu/its/msoffice365/index.htm .
Because this software is provided directly to you for your home computer or device, you will need to get support from Microsoft; while the Help Desk can answer general questions, they cannot assist you with the configuration of your personally-owned computer or device.
For more information contact Carlos Miranda, Manager, User Services, at 805-437-2048 or technovation@csuci.edu.
The Nautical yearbook
The Nautical yearbook has captured some of the finest moments at CI since 2005. A student-run organization, memories of the academic year are written, photographed and made available for purchase at the end of every year.
If you're interested in joining the staff, meetings are held every Monday at 11 a.m. in Student Union, Meeting Room B. Stop by the yearbook office and take a look the past yearbooks to see the growth of our University – you might just see yourself in some of the pages. 
For more information contact The Nautical Yearbook at 805-437-3121 or nautical@csuci.edu.
CalFresh: Better Food for Better Living
Attention CI students – The CalFresh program can add to your food budget and provide you with healthy and nutritious food. The program issues monthly electronic benefits that can be used to buy most foods at many markets and food stores. Come find out if you are CalFresh eligible by visiting the CalFresh office, located in Ojai Hall, Room 1978 every Wednesday from 9 a.m. to 1 p.m. thru May 3, and meet with CalFresh representative, Melissa Cardenas.
For more information contact Jeannette Edwards, Centers Coordinator, at 805-437-2608 or Jeannette.edwards@csuci.edu.  For more information about the CalFresh program contact: 805-983-7100.
Return to the Table of Contents
© Wavelength February 2, 2017