About the Exhibit
Bittersweet Harvest: The Bracero Program, 1942-1964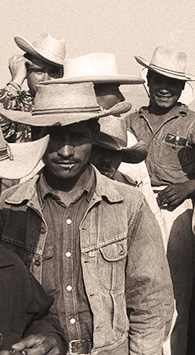 Begun in 1942 as a temporary war measure to address labor needs in agriculture and the railroads, the bracero program eventually became the largest guest worker program in U.S. history. Small farmers, large growers, and farm associations in California, Arizona, New Mexico, Texas, Arkansas, and 23 other states hired Mexican braceros to provide manpower during peak harvest and cultivation times. By the time the program was canceled in 1964, an estimated 4.6 million contracts had been awarded.
The bracero program was controversial in its time. Mexican nationals, eager for cash work, were willing to take harsh jobs at wages scorned by most Americans. Farm workers already living in the U.S. worried that braceros would compete for jobs and drive down wages. "The braceros experienced exploitation but also opportunity," says NMAH curator Peter Liebhold. "The work was grueling, the time spent away from home difficult, but the opportunity to earn money was real. The program was truly bittersweet."
Bittersweet Harvest, a moving new bilingual exhibition organized by the Smithsonian's National Museum of American History (NMAH) and circulated by SITES, examines the experiences of bracero workers and their families, providing rich insight into Mexican American history and historical background to today's debates on guest worker programs. Consisting of 15 freestanding, illustrated banners, the exhibition combines recent scholarship, powerful photographs from the Smithsonian's collection, and audio excerpts from oral histories contributed by former contract workers.
Exhibition Hours and Parking
The exhibition will be on view September 9, 2010-October 31,2010. Gallery hours are Monday through Friday, 10-1 p.m and 4-7pm, Saturday, 10-1pm, and Sunday,1-5pm Limited parking is available on campus. A daily permit is $6. Free parking is available at the Camarillo Metrolink Station/Lewis Road parking lot in Camarillo with bus service to and from the campus. Riders should board the VISTA Bus to the campus; the fare is $1 each way. Buses arrive and depart from the Camarillo Metrolink Station every 30 minutes from 7 a.m. to 10 p.m. Monday through Friday. For exact times, check the schedule at www.goventura.org. This exhibition is FREE and open to the public.