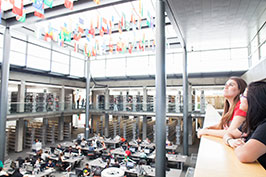 The office of  International Programs offers study abroad programs in nearly 20 countries throughout the world, in almost every academic discipline at CI! Study abroad for a year or semester while earning resident credit towards your major, minor or general education requirements.
Take your first step toward your study abroad journey by doing some research on our website. All the information you need is very accessible.
Studying abroad requires a lot of responsibility and initiative. Taking the first steps yourselves proves to us that you are capable of thriving independently, which is necessary for a successful study abroad experience. We are looking for applicants who show self motivation throughout the entire process.
We are more than happy to equip you to be the best applicant possible.  Please research the options available and attend an information sessions, which are located in Sage Hall 2061 and are held weekly.
---