Campus Reading Celebration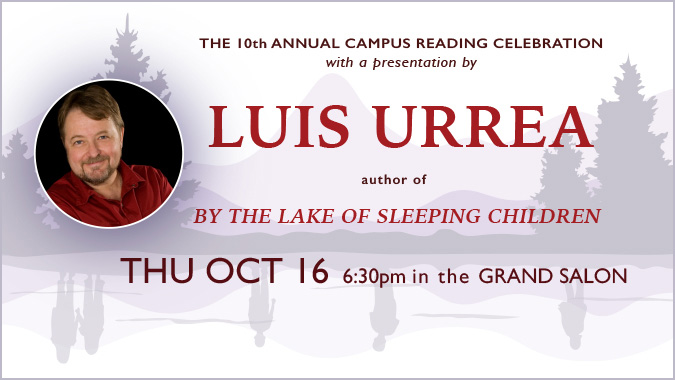 You are invited to the Campus Reading Celebration, which provides an annual opportunity for the campus community and public to share in a common intellectual experience. The book for the 10th annual Campus Reading Celebration is By The Lake of Sleeping Children: The Secret Life of the Mexican Border by Author Luis Urrea. The centerpiece of the Campus Reading Celebration will be a visit by Author Luis Urrea on October 16, 2014 for all to attend!
CI students, faculty, and staff = FREE
Community Members = $10
Non-CI students = $5
---
Parking Information:
Complimentary event parking is limited and only available in the designated parking lot on campus.  Follow the event signage to the event parking lot. Free parking is also available at the Camarillo Metrolink/Lewis Road parking lot with bus service to and from the campus. In order to waive bus fares, riders should present their event registration confirmation when boarding the CI Vista Bus, otherwise the cash-only bus fare is $1.25 each way. Buses arrive and depart from the Camarillo Metrolink Station every 30 minutes from 7 a.m. to 10 p.m., Monday through Friday. For exact times, check the schedule at: www.goventura.org
---
Author/Book Info:

Luis Alberto Urrea is a prolific and award-winning writer. He is a master of language and a gifted storyteller who uses his dual-culture life experiences to explore greater themes of love, loss and triumph.

Born in Tijuana, Mexico to a Mexican father and an American mother, Luis grew up in San Diego, Califomia. Like so many great writers, Luis got his start in literature writing poems to impress girls in junior high school. His early heroes were all rock stars, but not being especially musically gifted Luis chose to follow in the steps of his literary role models. A fanatical hunger for reading pushed him over the edge at the age of 13,"I just had to do what my heroes were doing" he has said.

Luis Urrea attended the University of California at San Diego, earning an undergraduate degree in writing, and did his graduate studies at the University of Colorado-Boulder. Aside from his Fellowship at Harvard he has also taught at Massachusetts Bay Community College, the University of Colorado and the University of Louisiana-Lafayette. Luis is currently a professor of creative writing at the University of Illinois-Chicago. He lives with his wife Cinderella ("Cindy") and their youngest daughter in Naperville, IL.
The event will include Urrea's presentation, a Q&A session with the audience, a book signing, and a light reception.
---
For additional information contact Merissa Stith, Events Coordinator, at 805-437-8548 or merissa.stith@csuci.edu