Extended University Alumni
Lindsay German BA'08 – MBA '11
Catering with a Conscience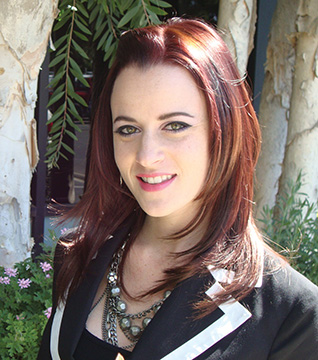 By Janet Egiziano, Director, Thousand Oaks Campus; Associate Director, MBA Program
Like many self-proclaimed foodies in Southern California, Lindsay German has long been intrigued by food, especially the easy availability of locally sourced fresh ingredients. When, as a CI Business student in 2008, she happened upon a Craigslist ad for a bookkeeper for Main Course California, she jumped at the chance to work for a firm whose owners shared her passion for "food with integrity". After three years of hard work and commitment, and with an MBA under her belt, Main Course co-owners Robert Jacobi and Rachel Main gifted part of the company to German who, today, is the firm's Chief of Operations.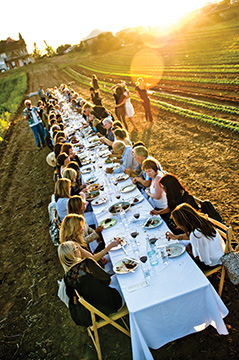 Photo: Main Course California's Outstanding in the Field event. Photo by Tom Judah
Main Course was a start-up during 2008's dismal economy. In that climate, the owners knew they couldn't compete head-to-head with dozens of well-established catering companies. Instead, they envisioned a full-service, off-site catering business that would showcase and support a thriving local community of innovative farmers, ranchers and artisans. They introduced themselves by opening a tiny temporary bistro in an industrial complex, relying solely on word of mouth for promotion. Their gamble paid off and, in 2010, the original vision for Main Course took off, and German's career along with it.
According to German, earning an MBA was key. "A business degree simply wasn't enough, " said German "The MBA got to the nitty-gritty of business, what works and what doesn't. I found mentors among my professors, many of whom are also business owners, and I learned so much from (MVS Business Advisory Council) guest speaker discussions about the realities of building relationships; of cultivating and growing employees; and of taking risks."
Starting Main Course in 2008 was a risk. Yet today, the company provides lunch Monday-Friday for Lynda.com's 250 employees, and caters corporate events for firms such as Mercedes Daimler Chrysler and Jaguar. The firm has twice been chosen to cater the national roving culinary adventure, Outstanding in the Field, as well as Totally Local VC's "Dinner at the..." series.
Today, German's life is happily wrapped around Main Course. She is actively engaged in trade organizations and is a passionate advocate of food awareness. "So much of what I learned in CI's MBA program still resonates today. I learned that it's OK to try something different, that it's important to take risks, and that the decision to grow or not grow is one of the most important decisions a business owner will ever make."