Features
The Wondrous Voice of Junot Diaz
By Lori Putnam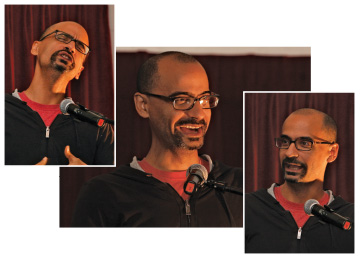 Photos: An expressive Junot Diaz captivates and connects with the audience
Just a day after being nominated as a National Book Award finalist for his latest work, This Is How You Lose Her, bestselling author Junot Diaz joined the CI community as part of the 8th annual Campus Reading Celebration. He greeted the near-capacity crowd with a reminder that while he teaches creative writing at the Massachusetts Institute of Technology, he wasn't speaking as a professor.  
"I was asked to come here tonight as an artist," said Diaz, in a conversation peppered with language meant to provoke and engage his audience. "We always bug people. That's the nature of being an artist. If you're an outsider, and always pointing out stuff no one wants to hear, then you have some good training to be an artist."
Diaz is the first author in the University's Reading Celebration series to have been nominated by a student. His critically acclaimed novel, The Brief Wondrous Life of Oscar Wao, was awarded a Pulitzer Prize in 2007 and helped build a reputation for Diaz as a writer with a unique voice. In Oscar Wao, Diaz shares a collection of character stories that capture the immigrant family experience – an experience that the author and many CI students share.  
"Growing up, I didn't realize I needed to have my own dreams," Diaz said. "I assumed the dreams my family had for me were my dreams. It didn't occur to me to be an artist."  
According to Matthew Cook, Head of Unique Collections and Scholarly Communication at the Broome Library, Diaz offered students an important opportunity to meet a successful author and realize what we share in common. "For many of us, we imagine a writer being different from ourselves," said Cook, one of five members of CI's Reading Celebration committee. "This event shows that writers are not as foreign as you may think. It shows that a kid from Parlin, New Jersey, may not be so different from a kid in Ventura County."  
As part of this year's event, Cook and the committee worked with faculty to pull out many of the book's themes to discuss in class, such as the main character's interest in computers, politics and political oppression, psychology, and more.  
These types of discussions speak to Diaz's own belief in the university as a tool for transformation. "Universities provide a fundamental opportunity for a student to encounter materials, peers, and faculty that open the door to complete transformation," said the author. "That is what getting an education is…an opportunity to be transformed. The person who walks into the university should be unrecognizable from the person who walks out."