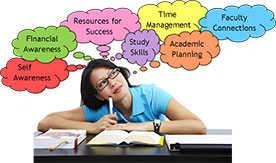 Feel like you can use help with your study strategies?  Need help balancing your responsibilities?  Or just want someone to talk to...Just ASC!
The Academic Success Coach (ASC) works closely with STEM faculty and staff to provide a STEM academic coaching program that empowers CI STEM students to become successful and self-directed lifelong learners.  Academic coaching will assist STEM students in meeting  academic and personal goals through one-on-one coaching sessions and support services. 
The Academic Success Coach provides guidance in the following areas:
Self Awareness
Financial Awareness
Resources for Success
Study Skills
Time Management
Academic planning
Faculty Connections
Meet our Academic Success Coach
Meet with our Academic Success Coach to assist you in navigating the hurdles of higher education.
Aracely Flores
Academic Success Coach (ASC)
El Dorado Hall #152
805-437-3650
Aracely.flores@csuci.edu
Call, email or stop by to schedule your appointment!
Walk-Ins Welcome