Science Carnival to be held on
Saturday, November 5, 2016, at Thurgood Marshall Elementary School, 
2900 Thurgood Marshall Dr, Oxnard, CA 93036
Official Fliers (PDF)
The Science Carnival is FREE to the public! Kids in kindergarten through grade 8 and their families are welcome to attend. This event provides students and their families with hands-on science experiences in a Halloween carnival setting. The event runs from 5 - 8 pm. PK-12 grade teachers are invited to attend a preview of the Science Carnival from 2:30 - 4 pm where they can learn about the hands-on science activities and how to implement them in their classrooms.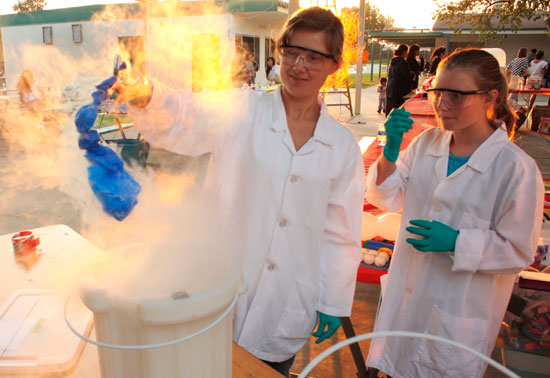 CSU Channel Islands (CI) student Yelena Lacey demonstrates the effect of liquid nitrogen on a balloon at the annual CI Science Carnival