CI DREAMers

To DREAM(er) Not To DREAM – A CME Event Supporting CSUCI DREAMers

Advocating for Undocumented Student Ally and Diversity Training

CME Advocates for Undocumented Student Ally Program and Diversity Training Workshops

Faculty Think Tank Research on Intimate Partner Violence

Dr. Georgina Guzman and Dr. Christy Teranishi Martinez and their students are active agents of change to create awareness about the prevalence of intimate partner violence.

Student Research/Activities

CME support students in presenting their research at conferences – Students met Dr. Philip Zimbardo known for his 1971 Stanford Prison experiment

Our Stories Matter

Dr. Tracy Bennett (Psychology) and Dr. Parul Malik (Organizational Communication) discuss the positive and negative impact of media and technology in our monthly speaker/discussion series Our Stories Matter cosponsored by the Centers for Multicultural Engagement (CME) and Integrative Studies (CIS)
Message from the Faculty Co-Director
The Center for Multicultural Engagement (CME) aims to foster a campus climate, both inside the classroom as well as outside in our broader communities, valuing and respecting all forms of diversity. The CME challenges students, staff, and faculty to commit to diversity as a source of renewal and vitality to empower YOU to be an active agent of change promoting civic action and social justice.
Read More from the Faculty Co-Director
Message from the Student Affairs Co-Director
In collaboration with the Center for Multicultural Engagement (CME) Advisory Board, we hope to bring more opportunities to engage the campus community in cultural experience to enhance dialogue around diversity on campus.  There are so many perspectives and lived experiences we want to uplift so it will be critical to do this together.  This work will also entail disrupting the dominate narrative in our society and unveil many of the erased or silenced histories both nationally and internationally.
Read More from the Co-Director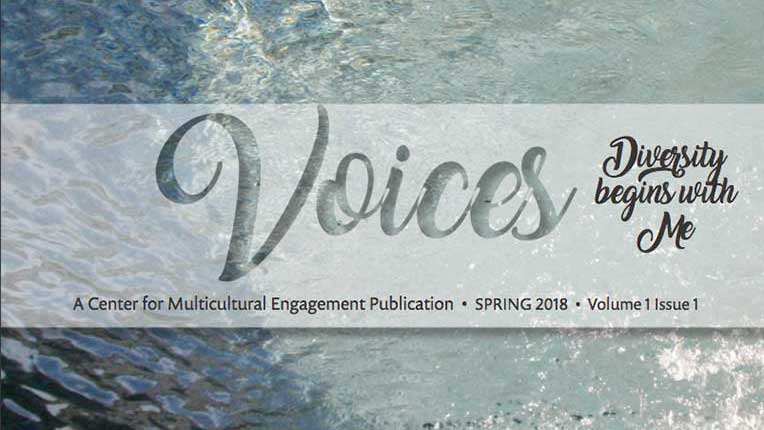 View current Voices issue
A Center for Multicultural Engagement Production
Learn More about the Center