Entrepreneurship & Small Business Institute (ESBI)
The Entrepreneurship & Small Business Institute

Operating in the Martin V. Smith School of Business & Economics (MVS) which has a liberal arts and interdisciplinary focus, the ESBI blends education and experiential learning to build upon the five Cs: critical thinking, collaboration (working with others), communication (oral and written), conduct (personal ethics), and competencies (in business related disciplines).
On-going hours at ESBI in Sage 2020 during Spring 2020 semester will be:
Monday & Wednesday 1:00 - 5:00 p.m.
Thursday 3:00 - 5:00 p.m.
Fridays - by appointment
Email us with questions or for an appointment: esbi@csuci.edu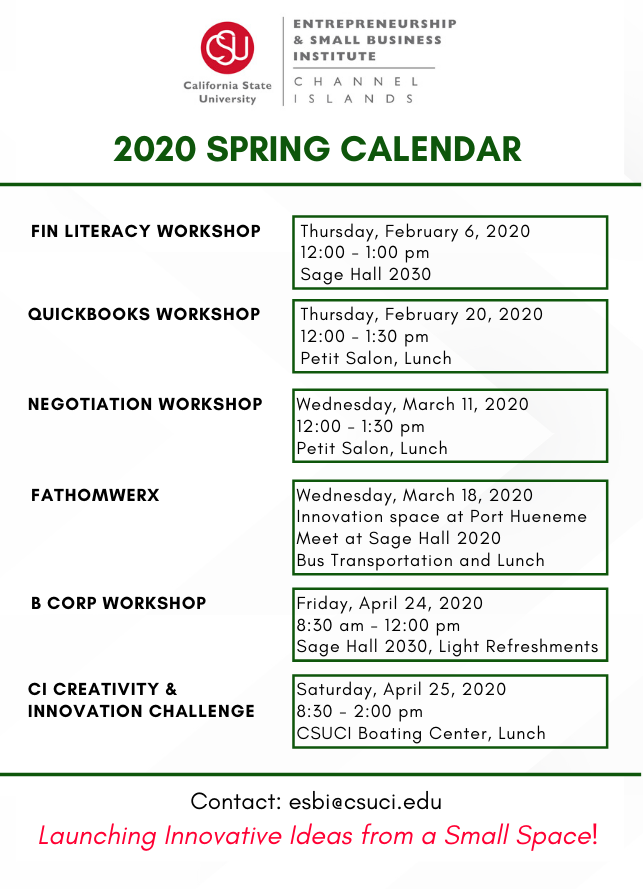 ESBI Pitch Competition
The fourth annual ESBI Business Pitch Competition took place Friday, November 8th with three teams taking home a prize! Coming in first place was The Plug Jug, a water bottle and phone charger, taking home the grand prize of $500, in second place with $300 was TeleHealth App, allowing lower-income patients to have better contact with their health care providers, and coming in third place with $100 Chandelier's Clothing Line, a line environmentally friendly clothes.
First place
The Plug Jug

David Israel
Benjamin Wagner
Tobias Wichterich
Adam Fernandez
Steven Mijangos
Lucas Stansler

Second place
TeleHealth App

Marla Peralta
Morgan Lopez
Luka Khidasheli
Julia Plohmann
Alex Wenk
Alex Philipps

Third Place
Chandelier's Clothing

Chandelier Yako
CI has a thriving commitment to experiential learning and innovation – two vital components for entrepreneurial activity! The Entrepreneurship & Small Business Institute (ESBI) provides CI students with opportunities for experiential learning through small business consulting and numerous activities that support entrepreneurship and innovation while simultaneously enhancing the fabric of the local business economy.