Entrepreneurship & Small Business Institute (ESBI)
The Entrepreneurship & Small Business Institute

Operating in the Martin V. Smith School of Business & Economics (MVS) which has a liberal arts and interdisciplinary focus, the ESBI blends education and experiential learning to build upon the five Cs: critical thinking, collaboration (working with others), communication (oral and written), conduct (personal ethics), and competencies (in business related disciplines).
Spring 2022 Office Hours are available every Wednesday from 11:30 a.m. to 1:00 p.m. Make an appointment
If Wednesdays are not convenient, please send a message to esbi@csuci.edu to schedule an appointment
Startup Weekend Channel Islands in Broome Library, March 25-27, 2022
Students of all majors are invited to join the Techstars Startup Weekend, beginning Friday, March 25 at 6:30 p.m., through Sunday, March 27.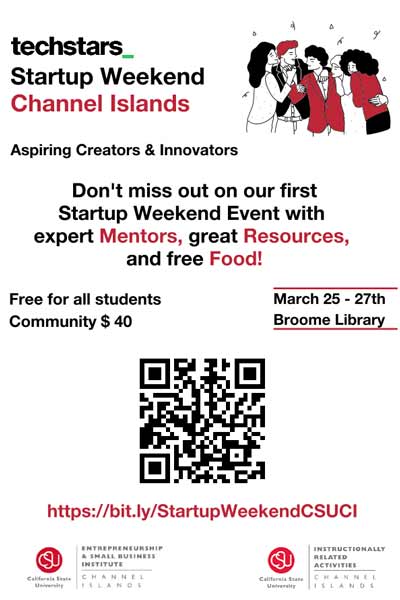 The event will be facilitated by Jay Cooper from Techstars, a global platform for networking, investing, and innovation. The event includes the framework for getting your startup off the ground, and local business owners will mentor the teams throughout the weekend. Final pitch presentations will be held on Sunday evening with winners receiving software and consulting packages to start their business.
Students can participate for free, community members may participate for a fee of $40.00, and food for the weekend is included.
The event is hosted by the Entrepreneurship & Small Business Institute (ESBI), Instructionally Related Activities (IRA) of CSUCI, Light Gabler Ventura County Employment Law Attorneys, Women's Economic Ventures WEV), and Economic Development Collaborative (EDC) of Camarillo.
For more information and to register, visit: http://bit.ly/StartupWeekendCSUCI
Join us for Happy Hour with an Entrepreneur;
Happy Hour with an Entrepreneur is a series of interviews with entrepreneurs in which we have a conversation about their entrepreneurial journeys. Learn more through the eyes of local entrepreneurs.
March 4, 2022, 4:00 p.m
April 8, 2022, 4:00 p.m.
May 6, 2022, 4:00 p.m.
All majors are welcome to join as well as alumni, faculty, staff, and community members. We hope to see you there.
News From ESBI
| | | |
| --- | --- | --- |
| | | |
| Cheyenne Prado | Natalie Webb | Mackenzie Goodlett |
ESBI Receives National Recognition in E-Fest Business Pitch Competition
The ESBI congratulates Cheyenne Prado, Mackenzie Goodlett, and Natalie Webb who are students in Dr. Taylan Yalcin's New Product Development course who placed in the top 25 of the E-Fest National Business Pitch competition through the University of St. Thomas and the Schulze Family Foundation in Minneapolis. Their business is For the Love of Hemp, a natural sunscreen using locally grown hemp.
There were 119 submissions from 65 colleges and universities across the country. The team wins $3000. And CI will receive $1000. for ESBI.
Congratulations also go to our other teams who submitted! Thanks so much for your hard work and diligence.
C & K Sustain Clothing Line from Chandelier Yako and Kaylee Lozano, Dr. Cindy Sherman's students
ListUp from Kirsty Nguegang & James Hipolito, Dr. Jason Isaacs' students
A list of the top 25 teams can be found at https://eiexchange.com/content/e-fest-2020-results
ESBI Pitch Competition
The fourth annual ESBI Business Pitch Competition took place Friday, November 8th with three teams taking home a prize! Coming in first place was The Plug Jug, a water bottle and phone charger, taking home the grand prize of $500, in second place with $300 was TeleHealth App, allowing lower-income patients to have better contact with their health care providers, and coming in third place with $100 Chandelier's Clothing Line, a line environmentally friendly clothes.
First place
The Plug Jug

David Israel
Benjamin Wagner
Tobias Wichterich
Adam Fernandez
Steven Mijangos
Lucas Stansler

Second place
TeleHealth App

Marla Peralta
Morgan Lopez
Luka Khidasheli
Julia Plohmann
Alex Wenk
Alex Philipps

Third Place
Chandelier's Clothing

Chandelier Yako
CSUCI Entrepreneurship and Small Business Institute gets a new director
CI has a thriving commitment to experiential learning and innovation – two vital components for entrepreneurial activity! The Entrepreneurship & Small Business Institute (ESBI) provides CI students with opportunities for experiential learning through small business consulting and numerous activities that support entrepreneurship and innovation while simultaneously enhancing the fabric of the local business economy.